Best Ways to Clean Vinyl Chairs
Vinyl appears on many chairs, from office chairs and highchairs to outdoor furniture. Regardless of the location or purpose of your vinyl chair, several methods exist for removing dirt and grime from these pieces of furniture.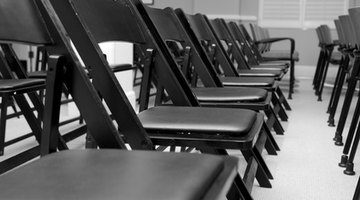 Once you get your vinyl chairs sparkling clean, regular touchups help you avoid difficult cleaning in the future.
Cleaning Products
Cleaning products vary, depending on how dirty your vinyl chairs appear. Start with mild solutions first, moving on to heavy duty cleaning products only if needed. Begin with warm water and a mild dish detergent to remove the top layer of dust and loose dirt. A pressure washer removes old dirt, but avoid using this method on old, frail or delicate furniture. Mixing 1 cup white vinegar with 1 cup water creates an excellent vinyl-cleaning solution as well.
Difficult Stains
Outdoor vinyl furniture sometimes develops mold or mildew stains. Removing these stains works well with a solution of bleach and water in a 1-to-1 ratio. Test the solution on an inconspicuous area first to ensure it will not bleach the color out of your chair. Scrub down the furniture using a cloth, sponge or stiff-bristled cleaning brush, making sure to rinse thoroughly when done. Dry the furniture with a cloth or just place it in the sun.
Tips
Getting into cracks and crevices in vinyl chairs proves tricky. Accomplish this easily by using items like old, soft-bristled toothbrushes or cleaning erasers. Never use anything rough or sharp, as such items may tear or damage the vinyl. Placing your vinyl chair in your bathtub or outside before starting to clean it keeps your floors from needing cleaning as well. If your vinyl chair features removable cushions, take them off before cleaning. This not only enables you to clean the cushions more thoroughly but also allows you to clean the back and under the cushions, where grime and stains sometimes lurk. Check to see if your vinyl cushions are machine washable as well.
Considerations
Keeping your vinyl chairs clean by wiping them down with a damp rag on a daily or weekly basis prevents dirt buildup that makes occasional cleaning such a chore. Use warm water or mild dish detergent for this regular cleaning task for best results. Always read and follow any care and maintenance instructions that came with your chair for best results.
References
Writer Bio
Kristin Urbauer has been freelance writing since 2009 when she began publishing work for various websites. She enjoys writing on a variety of topics including children, education, gardening, pets, mental health and alternative medicine. She attended the University of Nebraska where she majored in English.
Photo Credits
chairs in a row image by Michael Drager from Fotolia.com
chairs in a row image by Michael Drager from Fotolia.com
More Articles