Types of Tub Spouts
Tub spouts might have to be replaced for various reasons, according to Plumbing Supply. Perhaps the diverter is deteriorated and can no longer divert the water properly to the showerhead, or the threads that attach the spout to the pipe may corrode, thereby letting water drip along the wall.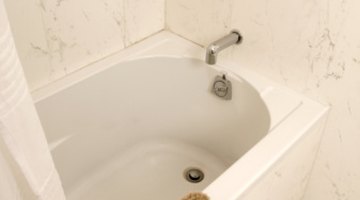 There are a few different kinds of tub spouts from which to choose.
Slip-on Type
The slip-on type of tub spout features a setscrew, which is a tiny screw that you can find on the bottom of the spout. A slip-on tub spout is intended to be slipped onto a pipe that is 1/2 inch in size without using any threads. You must take precaution when using this type of tub spout so that the end of the copper that is inserted is free of any rough edges or burrs.
Front-End Threaded Type
The front-end threaded type of tub spout does not feature a setscrew. Instead, it will simply twist off of either the pipe itself or the nipple. Use a front-end threaded tub spout in two ways, either with a tub valve without a shower or with a tub valve that features a shower diverter built right into the tub valve.
Rear-End Threaded Type
The rear-end threaded type of tub spout will provide additional convenience. It may be attached to a tub spout stub-out nipple either 1/2 or 3/4 inch long. It can be attached at the wall end of a tub spout that features a Celcon bushing. Use a rear-end threaded type for new construction as well as remodeling jobs. A selection of different models is available, such as those with a special outlet attachment or those that feature a regular diverter close to the wall.
Telescoping Type
The telescoping type of tub spout is another version of the threaded tub spout. This spout allows for flexibility in many kinds of installation situations by permitting you to make adjustments of up to 1 inch for the wall that has been finished. This type of tub spout connects to 1/2 to 3/4-inch long nipples with the Celcon bushing.
References
Resources
Writer Bio
Herkermer Brisbane started writing professionally in 2004, working for Internet properties like Internet Brands. He studied English at Vancouver College.
Photo Credits
Jupiterimages/Photos.com/Getty Images
Jupiterimages/Photos.com/Getty Images
More Articles