How to Paint Over Wallpaper Liner
Wallpaper liner is very similar to wallpaper. It is installed on walls to help cover up flaws or other blemishes. Wallpaper liner is installed horizontally, whereas regular wallpaper is installed vertically. This helps keeps the wallpaper liner stronger and allows it to last longer.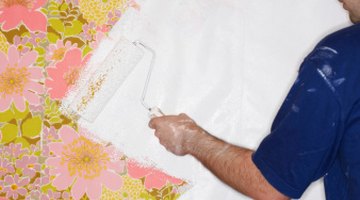 Things You Will Need
Rags
Primer
Paint tray
Paint roller
Paint
After it has been installed on the wall, painting over wallpaper liner is no different than painting over any other type of wallpaper. The paint can give your wall a new, elegant look.
Wipe off all dirt, dust and debris from the surface of the wallpaper liner. Sweep over the entire surface with a clean rag and inspect the wallpaper. Look for loose pieces, particularly at the seams. Verify all the wallpaper is secure to the wall before painting.

Open up a can of primer and pour it in a roller tray. Roll out the primer over the surface of the wallpaper, beginning in one corner of the room and working toward the other. Cover the entire surface of the wallpaper, starting in a "W" pattern before filling in with vertical strokes. Allow the primer to properly dry.

Apply a coat of paint over the primer just like the primer was applied. After it dries (check the can for recommended drying times), apply a second coat in the same manner. Repeat the process for a third coat, if necessary, to achieve the desired color.

Inspect the wall after the final coat has dried overnight and verify it is the proper color. Check that all the seams are covered and there are no chips in the paint.
References
Writer Bio
Alexander Callos began writing in 2005 for "The Lantern" at The Ohio State University and has written for various websites, including Bleacher Report, Top Ten Real Estate Deals and Columbus Sports. He has published articles for CBS Sports, SI.com and other websites. He graduated in 2007 from The Ohio State University with a bachelor's degree in public affairs journalism.
Photo Credits
Martin Poole/Photodisc/Getty Images
Martin Poole/Photodisc/Getty Images
More Articles