How to Prevent Bats From Hiding Under a Porch Awning
Bats are a great contribution to nature, ridding landscape of thousands of insects each day. While bats are generally not a cause for concern, many residents do not care to have them living in or close to their home. If bats congregate under your porch awning, it may be beneficial to avert them elsewhere.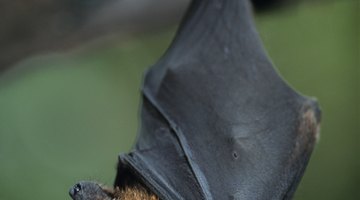 Things You Will Need
Insect repellents
Lighting
Fan
Mesh
Pet repellent
Aluminum foil
Moth balls
Newspaper
Bat house
Bleach
Eliminating their shelter and food will naturally cause the bats to come out from hiding and find a new place to live.
Control insects around the awning to diminish the primary food source of local bats. Hang fly strips, moth lights, citronella candles or other insect repellents.

Hang flood lights or bright bulbs to deter bats away from the porch. Use lighting in combination with insect repellents as the lights may attract insects.

Set up a fan under the awning to maintain a constant draft. Bats will not tolerate strong breezes and will move to a draft-free environment.

Cover the underside of the porch awning with a mesh screen. Ensure that no bats are under the awning before covering the entrances and exits.

Spray a repellent designed for dogs and cats. Chemicals found in pet repellent sprays are also known to keep away bats.

Suspend strips of aluminum foil in areas where the bats are nesting. Bats are unlikely to take up residence in areas where light is being reflected towards them.

Place moth balls under and around the porch awning. Tie a mesh bag full of moth balls to the awning as the smell is unpleasant to bats.

Slap the area beneath the porch awning with a newspaper during the daytime. The noise of the newspaper will most likely drive away the bats.

Install a bat house near the awning to drive the bats to their new home. Erect bat houses should stand 10 to 15 feet off the ground and near a water source.

Remove bat droppings as bats may be attracted to the odors caused by previous infestations. Clean the affected area with bleach and water solution.
References
Writer Bio
Based in northern New York, Brandy Burgess has been writing on pets, technical documentation and health resources since 2007. She also writes on personal development for YourFreelanceWritingCareer.com. Burgess' work also has appeared on various online publications, including eHow.com. Burgess holds a Bachelor of Arts in computer information systems from DeVry University and her certified nurses aid certification.
Photo Credits
Anup Shah/Digital Vision/Getty Images
Anup Shah/Digital Vision/Getty Images
More Articles