What Is the Exterior Wall of a Double Wide Made of?
Mobile homes, now commonly referred to as manufactured homes, have become a common option for people who live on fixed incomes or want an inexpensive vacation residence. These manufactured homes offer every option for comfort and convenience.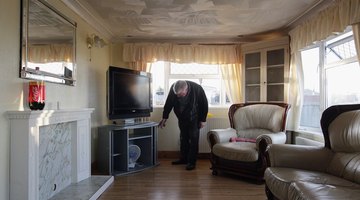 For those people who need a bit more space, the "double-wide" home puts two standard mobile homes together for even more living area. Exterior walls and other building structures generally contain recommended insulation for energy efficiency.
About Manufactured Homes
Manufactured homes are factory-built houses, generally made with a metal exterior, that incorporates many of the same features used in traditional housing. Manufactured homes made since 1976 are subject to the Housing and Urban Development standards for construction and safety, according to the Manufactured Housing Institute. These standards have made today's manufactured homes superior to what most people expect from mobile homes. Some owners of manufactured homes purchase land to position their homes, while others rent spaces in manufactured home communities. State and local codes may regulate the location of manufactured homes.
Double-Wide Manufactured Homes
Most manufactured homes are single-section units that generally have one or more bedrooms, bathrooms and kitchen/living room areas. Double-wide units have two sections connected together to provide additional bedrooms or larger living room/family room areas. The construction of the units is the same regardless of the number of units that are fitted together. Generally, single units offer about 1,100 square feet of living space, in contrast to double-wide homes, which offer around 1,700 square feet, according to the Consumers Union website.
Exterior Wall Construction
Manufactured homes generally have vinyl siding fastened to 2-by-6-inch studs. Insulation is inserted between the siding and the building paper that is closest to the interior shell. Metal or hardboard siding may also be used for the exterior. Metal siding may have more problems with leaks, however. Interior walls are generally gypsum board that may be pre-wallpapered at the factory
Choosing the Right Manufactured Home
Plumbing problems are often reported by manufactured home residents. Upgrading to higher-grade plumbing and fixtures can help to alleviate these problems. Roofing should extend beyond the sides of the home with proper roof ventilation measures. Shingle roofs offer better structural protection than metal roofing. Avoid particleboard sub-floors, which can cause problems with warping, swelling and structural weakness. Double-paned, glazed windows are often found in manufactured homes. Ensure that adequate caulking has been placed around the windows and doors to prevent leaking. A common problem in double-wide homes is leaking and separation at points where the two units have been fitted together.
References
Photo Credits
Oli Scarff/Getty Images News/Getty Images
Oli Scarff/Getty Images News/Getty Images
More Articles