Cost Comparison: Spider Insulation Vs. Batt Insulation
Insulation cost depends on the area you're insulating, the desired R-value, and whether you are doing the job yourself or hiring professionals. R-value refers is insulation's ability to block heat loss. The higher the R-value, the greater the insulation's effectiveness. The region's climate has an effect on recommended R-value. Those in colder, Northern states should install insulation with a higher overall R-value than those in warmer, Southern states.
Spider Insulation System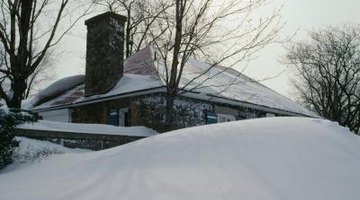 JM Spider is a proprietary spray-foam insulation system developed by the Johns Manville Co. According to the company's website, Spider insulation is energy efficient, inhibits mold and mildew and installs more quickly than other types of insulation. The product is sprayed onto walls between studs or into an attic with a long hose. Other companies also manufacture spray insulation products.
Batt Insulation
Batt insulation is the form installed in most homes, especially older ones. Batts, or blankets, are rolls of fiberglass with a paper facing. The batts are rolled between wall during construction and stapled to the studs on either side. Batts may be installed in attics between ceiling joists anytime and is an easy way of making your home more energy efficient. Batts are available in different thicknesses. The two types of insulation may be combined for even great effectiveness, and both types may be installed by the homeowner.
Cost Comparisons
Doing the job yourself saves cost. Blown-in insulation such as Spider when installed by professionals in a typical 800-square-foot attic can cost between $400 and $1,800, as of 2011. Do-it-yourself materials using batt insulation in the same attic may cost $100 to $500, not counting the time and effort you put into the job.
Rebates
Whether doing it yourself or hiring a contractor, one money-saving feature is the availability of certain state and/or federal tax rebates that apply to energy-improvement upgrades, including insulation. Some utility companies also offer rebates.
Weatherproofing Tips
Even if you hire a contractor, there are things you can do to reduce your costs and improve your home's insulating capacity. Seal cracks and crevices, add weather stripping around doors and windows, install storm windows and doors, add foam gaskets behind switchplates and outlets, and keep your fireplace flue tightly closed. Home improvement stores sell aerosol cans of spray foam for sealing smaller cracks, such as around windows.
References
Writer Bio
Patricia Rockwood has been a professional copy editor and writer for more than 25 years. She is an avid gardener with a certified Florida backyard habitat. Rockwood has practiced yoga for more than 40 years and taught for much of that time. She is also a professional mosaic artist.
Photo Credits
Photos.com/Photos.com/Getty Images
More Articles