How Long Does Bathtub Reglazing Last?
Table of Contents
Reglazing, or refinishing, your bathtub is a cost-effective way to repair scratches, stains, chips and rust. A properly reglazed bathtub can look and feel like new, and it costs less than buying a new tub. With proper care, a professionally reglazed bathtub can last between five and 10 years.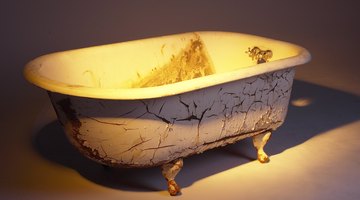 Do-it-yourself kits are available but don't expect the results to last as long.
DIY
Do-it-yourself reglazing kits don't contain the industrial-strength bonding agents or delaminating solutions that professional refinishers use. Instead, they contain acetone or alcohol, which don't work as well. Professional refinishers use silanes, which are silicon and hydrogen compounds used to improve adhesion and water resistance. According to refinisher Mike D. Maddocks, most DIY reglazing jobs fail within the first year when the paint starts peeling off.
Materials
Professional reglazing materials consist of chemically hardened acrylic, urethane or polyurethane materials, while DIY kits often contain paints or epoxies. DIY paints aren't very durable and can start peeling in as little as one week. Industrial refinishing materials include strong acids, solvents and materials that are so toxic they require the refinisher to wear a respirator and protective clothing.
Preparation
The floor and walls around the bathtub should be thoroughly cleaned so dirt doesn't ruin the finish on your newly reglazed tub. In addition, all of the caulking needs to be removed around your bathtub, and painter plastic or newspaper should be taped up on the walls to protect them from overspray. The bathtub itself should be cleaned, both to remove dirt and to ensure that the bonding agent bonds better. After rinsing, the tub should be completely dried.
Process
Reglazing a bathtub involves stripping off the old glaze and sanding the bathtub, then cleaning it before applying a primer and several coats of finish. The tub is sanded again in between each coat. Make sure your bathroom is vented during the process to remove toxic fumes. If your old bathtub has holes or cracks in it, the refinisher will repair them as well. It takes a professional refinisher between four and six hours to reglaze a bathtub.
Care
Don't use bleach, abrasive cleaners or steel wool on your newly reglazed bathtub because it will ruin the coating. Use gentle, non-abrasive kitchen cleaners instead. Avoid bathtub mats with suction cups because they will tear the coating. Waxing your bathtub every six months with a urethane polish will extend its life but be careful using a waxed bathtub because it will be very slippery.
References
Resources
Writer Bio
Lani Thompson began writing in 1987 as a journalist for the "Pequawket Valley News." In 1993 she became managing editor of the "Independent Observer" in East Stoneham, Maine. Thompson also developed and produced the "Clan Thompson Celiac Pocketguides" for people with celiac disease. She attended the University of New Hampshire.
Photo Credits
Hemera Technologies/AbleStock.com/Getty Images
Hemera Technologies/AbleStock.com/Getty Images
More Articles