What Minimum Height for Deck Railings?
Railings are extremely important for the safety of those on, under, and around a deck area. The IRC, or International Residential Code, and the IBC, or International Building Code regulate the railing specifications.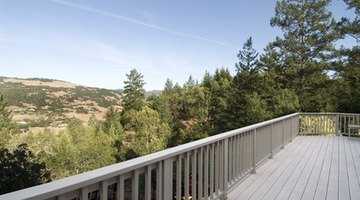 Types
Railings for residential decks require a height of 3 feet from the floor of the deck to the rail top surface, as mandated by the IRC. Commercial railings necessitate a higher railing at 42 inches, as regulated by the IBC.
Considerations
Another specification for railings include rail spacing that is less than 4 inches apart, making sure that a ball or sphere of 4 inches in diameter cannot push in between for safety parameters.
Helpful Tips
Any deck that is 30 inches or more above ground must have a railing, as well as a building permit for that deck, if it is an addition to a building. If a deck is below 30 inches, it is the owner's choice to install railings, though they still must adhere to the mandated rules.
References
Writer Bio
Writing professionally since 2010, Amy Rodriguez cultivates successful cacti, succulents, bulbs, carnivorous plants and orchids at home. With an electronics degree and more than 10 years of experience, she applies her love of gadgets to the gardening world as she continues her education through college classes and gardening activities.
Photo Credits
deck with a view image by Bruce Shippee from Fotolia.com
deck with a view image by Bruce Shippee from Fotolia.com
More Articles