Directions for a Home Touch Steamer
A Home Touch steamer is a handy appliance that removes wrinkles and creases from clothing quickly without burning or scorching the fabric. For most garments, a steamer is much faster and more convenient than an iron.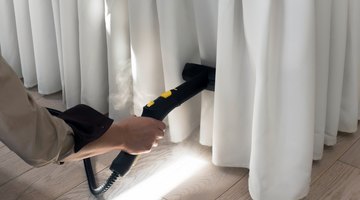 It's conveniently portable, as you can roll the steamer from room to room to smooth out curtains, drapery and upholstered furniture. Use the fabric brush attachment for heavy fabrics or to remove stubborn wrinkles and creases.
Warning
To avoid burns, always allow the steamer to cool until no steam is released before adding water or changing attachments.
Be sure that the steamer hose and nozzle are positioned above the water container during the steaming process.
Roll the steamer to curtains and drapery, and steam them where they hang.
Hold the water tank by the handle and turn the tank upside down, then remove the tank from the steamer.

Remove the cap on the bottom of the tank and fill the tank with cold water. Don't fill the tank beyond the "fill" line.

Replace the cap securely, then turn the tank upright and place it on the steamer. Be sure the tank is nestled firmly in the depression on the steamer.

Plug in the cord and turn on the steamer. The appliance will begin to emit warm steam in about 45 seconds.

Pull up the steamer's telescopic pole and turn it clockwise until it locks in place. Place the garment on a rust-free hanger and hang it carefully on the hanger attachment.

Steam the garment by sliding the nozzle with a steady up-and-down motion as you work from the top of the garment to the bottom. Heavy, thick garments may need two or three passes.

Look for a red light to come on if the water tank is empty. To continue steaming, refill the tank with cold water, then plug it in and allow it to heat up.

Turn off the steamer and unplug the cord when you are finished steaming a garment.

Let the steamer cool for at least 30 minutes before storage. Remove the tank, pour out the water and let the tank air dry.
References
Resources
Writer Bio
M.H. Dyer began her writing career as a staff writer at a community newspaper and is now a full-time commercial writer. She writes about a variety of topics, with a focus on sustainable, pesticide- and herbicide-free gardening. She is an Oregon State University Master Gardener and Master Naturalist and holds a Master of Fine Arts in creative nonfiction writing.
Photo Credits
OlgaChertova/iStock/Getty Images
OlgaChertova/iStock/Getty Images
More Articles