How to Remove Burnt Fabric From an Iron
The heat of an iron is great for setting sharp creases in slacks or pressing wrinkles out of a cotton shirt, but not all fabric will stand up to a hot iron. Some synthetic fibers will melt on contact, leaving you with an iron coated with burnt fabric.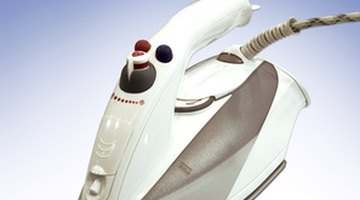 Before you can iron anything else, you need to remove the burnt fabric. Unplug the iron and let it cool, then prepare to clean up the mess.
Combine the vinegar and salt in the pan and heat until the solution begins to steam. Stir to dissolve all the salt. Remove the pan from the burner.

Allow the solution to cool until it is no longer hot but still warm. Dip the rag in the solution and wet thoroughly. Squeeze out excess.

Cover the sole plate of the iron with the wet rag and allow it to sit for 15 minutes. This will help soften the burned pieces and make them easier to remove.

Scrub the sole plate of the iron with the rag to remove all the burned residue.

Dip a second rag in clean water and wipe the sole plate of the iron. Allow to dry.

Burnish the sole plate with 000 steel wool if any residue remains on the iron. Use a steady back-and-forth motion.
Things You Will Need
1/2 cup vinegar
1/2 cup salt
Small pan
Cloth rags
000 steel wool
Warning
Always make sure the iron is cool and unplugged before you try to clean it.
References
Writer Bio
Cynthia Myers is the author of numerous novels and her nonfiction work has appeared in publications ranging from "Historic Traveler" to "Texas Highways" to "Medical Practice Management." She has a degree in economics from Sam Houston State University.
Photo Credits
iron image by Eray Haciosmanoglu from Fotolia.com
iron image by Eray Haciosmanoglu from Fotolia.com
More Articles