How to Dye Couches
Do you want to make your favorite faded or stained couch look like new again? Maybe you just want a fresh new color in your living room, but can't afford a new couch. Well, dying your fabric upholstery is as easy as spray painting it.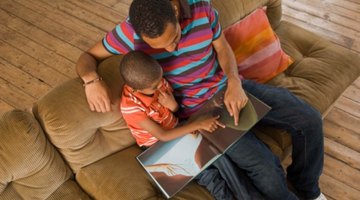 Use fabric spray paint to make all your couch cushions, rugs and pillows look like new again.
Purchase upholstery spray paint at any hobby store. The size of your couch determines how many cans you'll need. One upholstery spray paint can is supposed to cover 15 square feet of fabric. Purchase one more can than needed to be confident you have enough paint to finish the job.

Remove all cushions and pillows. Clean the couch and all individual pieces.

Remove the pull tab located on top of the spray nozzle. Point the nozzle close to, but not pointing at, the couch and pull the nozzle. When paint sprays from the nozzle, point it at the couch, and spray in circular motions while holding the nozzle trigger down consistently until the entire couch is covered in paint. Repeat with all cushions and pillows you want to dye.

Allow the paint to dry for at least 72 hours before sitting on the couch. Test the couch for dryness by pushing down on a cushion with a paper towel. If the paper towel comes up clean, then the paint has dried completely.
Things You Will Need
Fabric couch
Upholstery spray paint
Tip
For best results, clean the couch as best as possible before applying the fabric paint. Let your creativity flow when painting your furniture. It is possible to paint stripes or designs using stencils. To make your "new" couch stand out, dye pillows with colors that accentuate the primary color.
Warning
Upholstery spray paint stains carpets and other fabric surfaces. It is recommended to take your couch outdoors before using upholstery spray paint, and to place cardboard underneath the couch to avoid dyed pavement and grass.