Eucalyptus Vs. Bamboo Flooring Comparison
Eucalyptus flooring is derived from trees commonly found in areas such as New Zealand and Australia. It grows twice as fast as other types of trees, including oak and pine. However, bamboo grows even faster than eucalyptus does.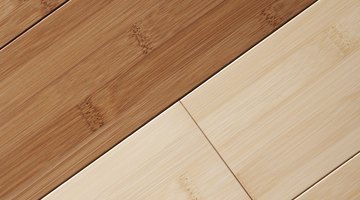 Still, bamboo is not actually a tree but rather a tall grass that is durable and aesthetically pleasing when used in flooring materials. Bamboo used in flooring often comes from China and Vietnam. Both eucalyptus and bamboo flooring feature various pros and cons when used in your home.
Eucalyptus
Eucalyptus is a very durable type of hardwood flooring. It actually possesses more durability than most other hardwoods and thus resists dents easily. Installing eucalyptus flooring is relatively simple if you select a glueless flooring product that features planks with grooved edges and tongues that you simply snap together. Another benefit of eucalyptus flooring is that 25-year warranties are available on some products, so this type of flooring is expected to last a long time. It also is widely available because eucalyptus is the most commonly planted hardwood and works well in moist areas.
Bamboo
Like eucalyptus, bamboo is durable and resembles hardwood. For this reason, it is especially appropriate for busy and heavily used areas in your home or business. In fact, it is one of the hardest wood floors available, possessing properties that surpass those of walnut, oak and maple. In addition, bamboo grasses grow extremely fast, reaching a mature height in four years. This makes harvesting bamboo a productive business.
Flooring Disadvantages
A disadvantage of bamboo flooring is that manufacturers often use formaldehyde to laminate the flooring material. Even though formaldehyde is a commonly used substance, it is potentially toxic and is a known carcinogen, meaning it has the ability to cause cancer in humans. For this reason, look for companies that offer products that lack formaldehyde. In addition, because bamboo flooring is in demand, bamboo forests are being destroyed across the globe. The chief disadvantage of eucalyptus flooring is that it easily experiences water damage, just as other hardwood flooring products do, and thus requires special care and maintenance.
Price and Other Information
Eucalyptus flooring costs range from between $5 to $10 per square foot, as of the time of publication. Bamboo costs usually fall between $4 and $8 for each square foot, as of the time of publication. In addition, eucalyptus is available in a wide range of colors and patterns that resemble those of other hardwood floor types, such as mahogany, and is very vibrant. Meanwhile, bamboo flooring typically comes in a dark amber color or a natural honey hue.
References
Writer Bio
YaShekia King, of Indianapolis, began writing professionally in 2003. Her work has appeared in several publications including the "South Bend Tribune" and "Clouds Across the Stars," an international book. She also is a licensed Realtor and clinical certified dental assistant. King holds a bachelor's degree in journalism from Ball State University.
Photo Credits
Thomas Northcut/Photodisc/Getty Images
Thomas Northcut/Photodisc/Getty Images
More Articles