What Is the Difference Between Molasses & Sorghum?
Molasses and sorghum are often compared to each other. Both are types of sweet syrup, but there are some very distinct differences regarding origin and how each type of syrup is made.
Origin
Molasses syrup is made from sugar cane and is essentially uncrystalized sugar. Sorghum is made of juice derived from the sweet sorghum cane stalk, a crop native to Africa.
Processing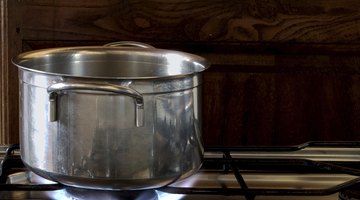 To make molasses, sugar cane is crushed and the juice is extracted and boiled down into a syrup. This syrup is boiled again with the addition of milk and an alkaline solution. The mixture is left to sit for two days until it begins to granulate, at which point the syrup is drained out, packaged and sold as molasses. To make sorghum, the juice is squeezed or pressed out from the sweet sorghum cane stalk and boiled down into syrup form. It is not as heavily processed as molasses.
Other Differences
During processing, molasses loses some of its sweetness. Sorghum has a sweeter taste because none of the sugar is removed when it is made. Molasses is also much darker than sorghum, which is a light amber shade.
References
Writer Bio
Anna Thurman began her freelance writing career in 2009, writing for eHow. She attended Appalachian Technical College, where she studied business English.
Photo Credits
Paul Brighton/iStock/Getty Images
Paul Brighton/iStock/Getty Images
Ryan McVay/Photodisc/Getty Images
jimd_stock/iStock/Getty Images
Image Source White/Image Source/Getty Images
More Articles