How to Clean Mildew from Outdoor Fabric
Finding dark or black mildew on outdoor fabric can be disheartening, especially if you have plans to entertain guests on your deck or patio.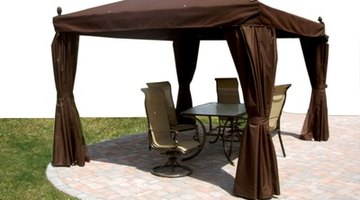 From furniture cushions and coverings to awnings, you'll want to know how to clean mildew from outdoor fabric to not only maintain the colors and beauty of the fabric, but also lengthen the number of usable years of the material. If possible, work on a sunny day with all of your fabric items at once to make the process less time consuming.
Mix the warm water with liquid dish detergent and borax in a large bowl. Stir the solution well to mix thoroughly but without creating suds and bubbles.

Pour the cleaning mixture into an empty spray bottle. Thoroughly spray the outdoor fabric, saturating it with the cleaning mixture. Flip the fabric as needed to cover both sides. Allow the cleaning mixture to soak into the fabric for 15 to 20 minutes.

Spray the fabric with a high-powered hose to knock off the loosened dirt and mildew. Look over the fabric for any stubborn mildew spots.

Spray the fabric with the cleaning mixture again if the mildew is still there. Scrub stubborn mildew spots with a plastic bristle brush and a generous amount of the cleaning mixture. Hose off the fabric and repeat the process as needed until the mildew is gone.

Set the outdoor fabric in direct sunlight to dry thoroughly before replacing it.
Things You Will Need
Large bowl
1 qt. warm water
1 tsp. liquid dish detergent
1 tsp. borax
Spoon
Spray bottle
Water hose
Plastic bristle brush
Tip
Add fabric protector on both sides of the outdoor fabric after you've cleaned it to help protect against mildew. If you don't mind bleaching the pattern or colors to salvage heavily mildewed outdoor fabric, clean it with a solution of one cup of bleach and one cup of powdered laundry detergent mixed in three gallons of water. Let the fabric soak in the bleach mixture for two to three hours before rinsing it and placing it in the sun to dry.
References
"Clean It Fast, Clean It Right: The Ultimate Guide to Making Absolutely Everything You Own Sparkle & Shine"; Jeff Bredenberg; 1999
"Tiptionary 2"; Mary Hunt; 2007
Photo Credits
patio image by fotogisèle from Fotolia.com
patio image by fotogisèle from Fotolia.com
More Articles