How to Tell If Deck Is Cedar or Pressure Treated?
There are many options to choose from when selecting lumber for decking. Cedar and pressure-treated wood are two readily available and popular options. Many homeowners make their choice for decking based on looks, durability, maintenance and costs.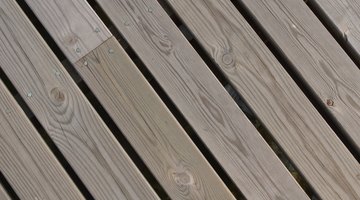 If you are in the midst of making a decision on which kind of wood to choose, it may be helpful to examine decks that have already been built. Some differences between cedar and pressure-treated wood are readily apparent.
Tip
Some homeowners choose cedar for the deck's flooring and rails for its good looks but use pressure-treated pine for the posts due to its durability and resistance to decay.
Examine the wood for imperfections. Pressure-treated wood is made from pine, which often shows imperfections such as knots and splits. Cedar tends to be smoother and unblemished and is also less likely to warp.

Look at the color of the wood if the deck has not been painted or stained. Natural cedar decking usually has a warm red color when first installed. Both pressure-treated wood and cedar fade to a soft gray after long exposure to the elements if they have not been painted or sealed. But only premium cedar made from the heartwood has the familiar red color. Cedar decking may be made from other parts of the tree as well, and these are not as rich in color.

Check for wear and tear on older decks. Pressure-treated pine is popular for its durability in addition to its lower costs. Pine is harder than cedar, so it can stand up to the elements and heavy traffic without showing as much wear. Since cedar is a softer wood, over time, heavy traffic on a cedar deck may produce scuffs and dings, and the boards' ends may fray.
References
Writer Bio
Lee Weal began writing and editing online content as a corporate intranet administrator in 2000 and was also the publisher and editor of a monthly employee newsletter. Her articles specialize in children's issues and home improvement.
Photo Credits
Hemera Technologies/AbleStock.com/Getty Images
Hemera Technologies/AbleStock.com/Getty Images
More Articles