How to Tighten the Bands on an Oak Barrel
Oak barrels made for aging wine and whiskey are often sold and repurposed as planters, rain barrels and containers for other liquids. These barrels are constructed of strips of dried oak called staves. The staves are arranged in a circle, then wet and formed by heat into a convex barrel shape.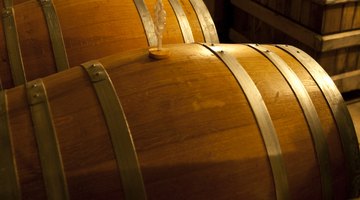 Iron or steel bands known as hoops are driven down over the staves by a hydraulic press to draw the staves tightly together. Barrel hoops are riveted and not adjustable. The compression tension of the hoops relies on the moisture level in the staves. Hoops will loosen if the barrel is left empty and staves are allowed to dry out and shrink. Barrel hoops may be re-tightened by restoring hydration to the staves.
Store empty, unused oak barrels in a cool, damp environment and spray the interiors of the barrels with water regularly to soak the staves and tighten the hoops.

Place soil and plants into a new oak barrel planter and water as soon as possible to expand the staves and tighten the hoops. Maintain the moistness of the soil to keep the staves swelled.

Fill barrels with liquid is they must be perfectly watertight and never allow them to dry out. If the barrel must be emptied, refill it with water or other liquid as soon as possible to saturate the staves and restore tightness of the hoops.
Writer Bio
Gus Stephens has written about aviation, automotive and home technology for 15 years. His articles have appeared in major print outlets such as "Popular Mechanics" and "Invention & Technology." Along the way, Gus earned a Bachelor of Arts in communications. If it flies, drives or just sits on your desk and blinks, he's probably fixed it.
Photo Credits
Comstock Images/Comstock/Getty Images
Comstock Images/Comstock/Getty Images
More Articles