The Average Cost of Lawn Service
The average cost of lawn service is a difficult number to name, because cost varies depending on the market and area of the country. however, a couple of factors can help you figure the average cost of lawn care.
History
According to Landscaping Ideas Online, most service-oriented jobs quadrupled in price from the mid-1990s to 2009, but the average cost of lawn service in the United States only doubled from what it was in the 1970s. That's good news for consumers like yourself, but maybe not for lawn companies.
Factors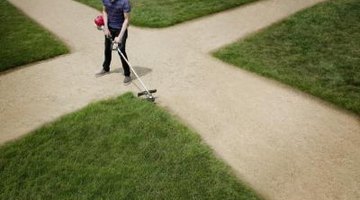 The size of your yard is a factor to consider. Naturally, if your yard is bigger, it's going to cost more to maintain. Not all lawn companies are the same quality, according Ohio State University, so you need to decide if you're paying someone to do your yard because you want your yard to look better than the job you would do or because you simply don't have time to do it yourself.
What Does Lawn Care Include?
Lawn care services often include edging, mowing the lawn, providing equipment (including fuel, oil and maintenance), debris removal and fertilization. Many of these companies know what they're doing and will make your yard shine. One common reason people pay for lawn service is because they want to focus their efforts on maintaining their garden. You only have so much time to spend outside; you might as well spend it doing what you want to do.
Cost
The most accurate way to get lawn care price estimates is by either calling a lawn care company or using an online estimate calculator. The final number will be based on the size of your yard (usually in square footage) and the additional services you request, according to Zamzows. You can find a lawn care care calculator at most lawn care company websites.
To give you an idea of actual prices, we looked up prices in three opposite parts of the country. The results showed that basic lawn care service in 2009 ranges from about $35 per week for mowing (sometimes more services are offered) to about $60 per week for mowing, according to Busy Bee Lawn Care in Columbia, SC; Williams Gardening in Katy, TX; and New Dawn Lawn Care in Yuma, AZ.
Considerations
Lawn care companies will perform other forms of maintenance on your yard if needed, usually for an extra charge. If you are just too busy to tend to those tomato plants or sunflowers, you can often hire these companies to tend to your garden. Other factors that might cause the price to fluctuate include size of your yard, small towns vs. big cities and the reputation of the company. A good starting point is $35 to $60; from there consider the other factors that may or may not affect you.
References
Resources
Writer Bio
Mitchell Holt has a bachelor's degree in print journalism from Abilene Christian University and has been freelancing since 2009 with work published in various newspapers and magazines like "BostonNOW" and "The Abilene Reporter-News." Holt also writes sales copy for small businesses. His clients include The Kyle David Group, ITNewton, 18 Vodka, RoboQuote and more.
Photo Credits
Jupiterimages/Polka Dot/Getty Images
Creatas/Creatas/Getty Images
Siri Stafford/Lifesize/Getty Images
Sam Royds/Photodisc/Getty Images
Jupiterimages/Photos.com/Getty Images
BananaStock/BananaStock/Getty Images
More Articles