What is the Life Expectancy of a Cedar Log Home?
Log homes create an image of country living. There is a history about them that calls to mind frontier living, such as that found in "Little House on the Prairie." Some log homes are actually living history themselves dating back hundreds of years. That's the kind of durability you can get in a log home.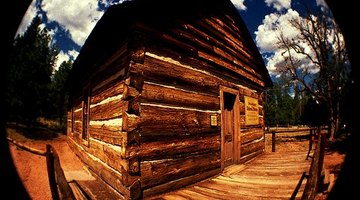 Life Span
A well-maintained log home can still be livable centuries after it was built. This is easily seen in the historic log cabins that have been added onto and still provide a home to residents today. According to West Coast Log Homes' Web site, "With proper maintenance and design, a log home can technically last indefinitely. With today's building codes and advanced construction materials homes can last for many generations. Many log homes are built for clients wishing to pass a building legacy on to subsequent generations of family."
Material
Some log homes are made of pine, but the material of choice nowadays is Northern white cedar. It is attractive but it is also durable. Its cellular structure makes it resistant to insects, rot and decay. It also does not absorb moisture well, which can lead to decay. It is grown primarily in the upper Midwest and Canada.
Maintenance
Because the wood in a log home is exposed to the elements, its need to be protected against water and sunlight. The exterior walls of the log home should be stained and sealed when water no longer beads when sprayed against it. The average length of time between staining will be around three years.
Fire
Some people worry that because a log home is made of wood, fire poses a more serious hazard. However, the size of the logs in the walls make it harder for a fire to take hold. It will generally only smolder before burning itself out, Cedar Log Homes Inc. states on its website: "A brick home will burn faster than a log home because of the combustible material that's inside."
Insects and Rot
Two things that can shorten a log home's life span are termites and rot, but one of the attractions of using cedar in home construction is that termites will not infest cedar because of a naturally occurring repellent in the wood. Cedar's cellular structure also makes it resistant to rot.
References
Writer Bio
James Rada, Jr. was a newspaper reporter for eight years and earned 23 awards from the Maryland Delaware D.C. Press Association, Associated Press, Society of Professional Journalists, Maryland State Teachers' Association and CNHI. He also worked for 12 years as a marketing communications writer, earning a Print Copywriter of the Year Award from the Utah Ad Federation. He holds a Bachelor of Arts in communications.
More Articles