Construction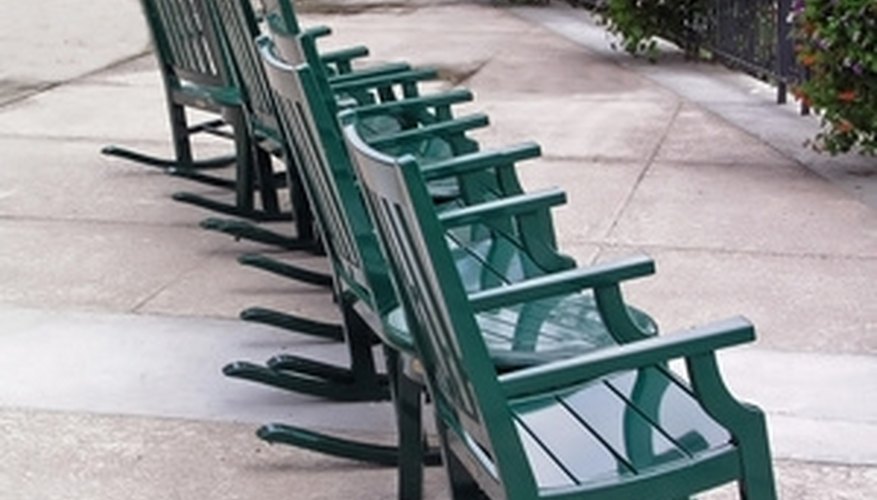 A variety of furniture materials are available, with resin and wicker being among the most common. Both have their benefits and drawbacks. Deciding between wicker or resin outdoor furniture is ultimately a matter of personal taste.
Most resin furniture is made out of polymer, a high density version of polyethylene plastic. This material is UV protected and water resistant. Another common material is EnviroWood. This wood substitute is made from 100 percent recycled plastic bottles and containers. Both of these materials are very sturdy and are made to withstand a variety of harsh environmental conditions.
Wicker furniture is woven from materials such as willow, reed or rattan. It is made to be very sturdy, but is not naturally resistant to the elements. It needs to be treated with a clear lacquer or varnish before being used outside.
History
Wicker furniture has a much more extensive history than its counterpart, resin furniture. Wicker was first used as material for furniture by the ancient Egyptians. The first wicker furniture was made of anything from reeds to swamp grasses. Wicker furniture maintained its popularity until the Middle Ages when it experienced a slight decline. Its popularity was renewed by Victorian societies and it has remained popular until the present day. Resin furniture did not become common, on the other hand, until the technology to synthesize polymers was created.
Pros and Cons
Resin furniture requires very little maintenance beyond the occasional cleaning with soap and water. Even exposure to salt water will not damage resin furniture. However, resin is not biodegradable and is very heavy. It can be recycled, but so can wicker.
Wicker furniture will last longer if not exposed to water or excessive sun. It is natural and biodegradable, therefore, water can cause the wicker to rot or mildew. Sun exposure may dry out the wicker and cause cracking and splintering. It is best to cover wicker furniture when not in use.
Aesthetics
Wicker furniture tends to be better suited to blending with its environment. It has a natural rustic feel that works well in an outdoor setting. Resin furniture, however, is now becoming available in a wider variety of colors and textures. It is even available to look like natural wood. Resin furniture is also easy to paint and repair.
Cost
As a whole, wicker patio furniture is slightly more costly than resin furniture. A certain amount of craftsmanship goes into the creation of a wicker chair, lending it more value. With resin furniture shoppers find a large range of prices. Not all resin furniture is durable. The heavier the plastic, the more it is likely to cost.