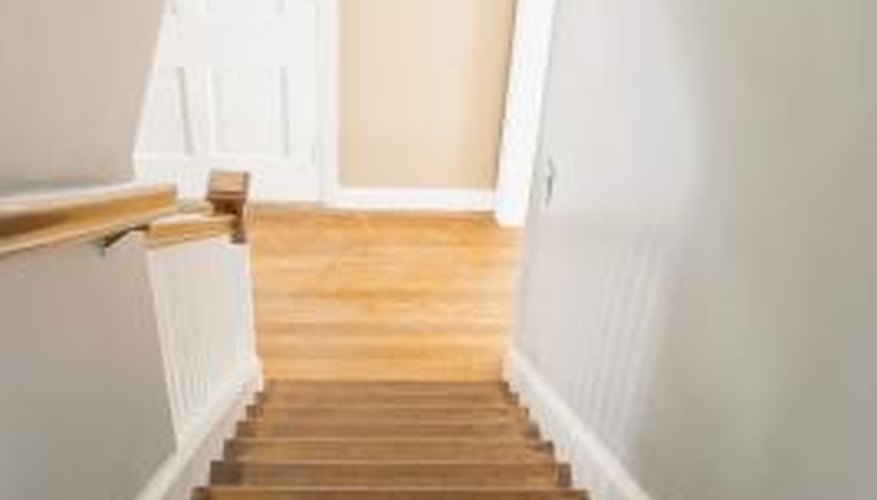 The stairs and high walls make it difficult to set up a ladder to reach all the way up to the ceiling. While extremely large and high stairwells are best left to professional painters who have scaffolding equipment, you can safely paint a smaller stairwell on your own by creating a simple catwalk.
Step 1
Cover the stairs with a drop cloth. Secure the drop cloth with tape, or place heavy objects at the top and bottom of the stairs to ensure that it does not slip.
Step 2
Place an extension ladder on a stair about halfway up the stairs. Lean the ladder against the wall. Ensure that the ladder fits snugly between the stair and the wall and all safety locks are engaged.
Step 3
Open a 6-foot step ladder at the top of the stairs. Place the ladder at least 8 to 10 inches from the edge of the stair for safety. Lay a 2-by-8-foot board, or a walkboard, through the first or second rung of the step ladder, across the stairwell and through the rungs on the other ladder, creating a level surface to stand and walk on over the stairwell.
Step 4
Use a C-clamp to secure the board to the step ladder to prevent the board from shifting.
Step 5
Stand on the walkboard, and paint the cut-in work with a brush. Paint the remainder of the stairwell walls, using a roller attached to an extender for safety and comfort; an adjustable extender can reach up to 12 feet, allowing you to safely paint the upper stairwell walls to the ceiling.
Things You Will Need

Drop cloth
Tape
Extension ladder
Step ladder
2-by-8-foot board
C-clamp
Paintbrush
Paint roller extension
Foam (optional)
Tips
Never attempt to paint higher than you can comfortably reach when standing on the walkboard. Standing on your tiptoes or overextending yourself can cause injury or a fall.

Cover the ends of the ladder with foam to prevent damaging the wall when you lean the ladder against it.

Ask your paint or home improvement store employee if he has walkboards or scaffold planks for rent. Many stores offer boards specifically designed for this purpose.