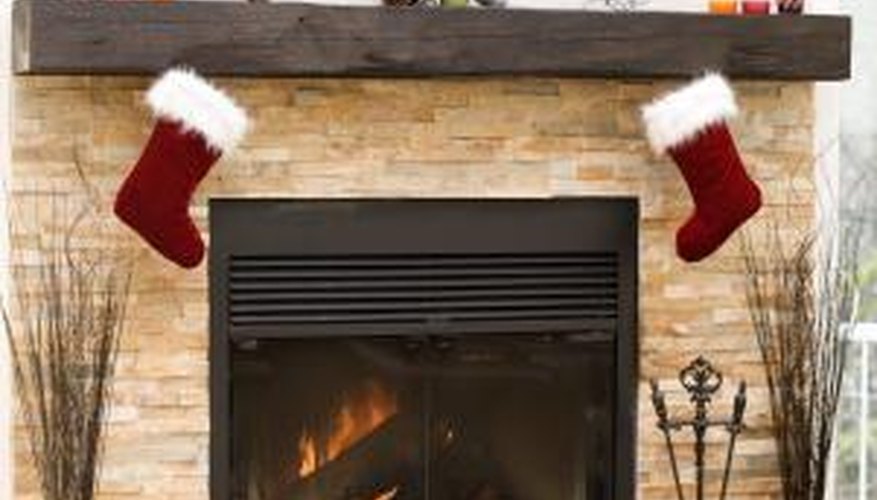 Over time, a brick hearth can begin to look old, dirty and outdated. If your fireplace needs a redo, you don't need to remove the existing hearth. Instead, cover the hearth with slate or marble tile that complements the fireplace surround. Prepare the brick, before you put a new hearth over the existing one, by clearing away any chipped mortar and cleaning off the soot.
Step 1
Place tarps on the floor around the fireplace to protect it as you clean off the old mortar and soot.
Step 2
Measure the front, top and sides of the existing hearth to determine how many full 12-by-12 inch tiles you'll need and how many you'll need to cut to cover the entire hearth. Lay out the tiles on the floor to use as a guide before you begin laying the tile.
Step 3
Scrape away any loose mortar from the bricks with a wire brush.
Step 4
Scrub the bricks with a solution of warm water and liquid dish soap. Rinse away the soap thoroughly from the brick surface and let the bricks dry overnight.
Step 5
Spread a thin layer, about 3/16-inch, of fortified thinset mortar with the smooth edge of a trowel. Cover all grooves made by the existing grout. Apply another thin layer, if necessary, to create a smooth, level surface. Let the mortar set overnight. Fortified thinset mortar contains polymers that make the tiles adhere securely to the brick.
Step 6
Apply another thin layer of mortar over the hearth with the notched edge of the trowel.
Step 7
Cover the back of a piece of tile with a thin layer of mortar. Set the tile into the notched mortar on the hearth. Continue setting the tiles onto the hearth until you cover the front, back and side surfaces.
Step 8
Place strips of masking tape across two tiles until all of the tiles are connected with tape. This will help hold the tiles in place as the thinset cures overnight.
Step 9
Prepare the tile grout, according to the manufacturer's directions. Apply the grout with a grout float by dragging it over the tiles in one direction then back over the tiles in the opposite direction. Wipe away the excess grout with a damp rag.
Step 10
Caulk along the edges of the tile where they meet the fireplace surround and the wall. Use heat-resistant caulk that matches the mortar and complements the fireplace surround for a smooth, seamless finish.
Things You Will Need

Tarps
Tape measure
Wire brush
Scrub brush
Liquid dish soap
Warm water
Fortified thinset mortar
12-by-12 inch slate tiles
Trowel
Masking tape
Tile grout
Grout float
Caulking gun
Heat-resistant caulk
Tips
Add a strip of molding along the bottom edges of the tiles where they meet the floor if desired.

Consider painting the mantel to coordinate with the new tile hearth.