How to Remove Gum From Under a Table
How many times have you found used chewing gum under a restaurant table? Check under your kitchen table, you might be surprised and disgusted to find gum under your own table. Learn how to get the gum out from under your table now.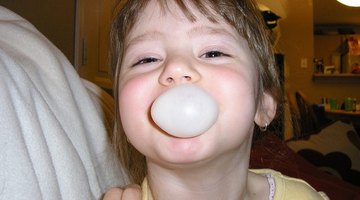 Locate every piece of chewing gum under the table. They should be easy to spot: colorful globs of rubbery goo embedded with someone else's mouth germs and bacteria that has collected over the years.

Invert the table, so that you're not working upside down when you remove the chewing gum. Placing a blanket on the floor can keep your table top from coming into contact with your floor.

Try using vegetable oil or olive oil to remove chewing gum from underneath a wooden table. Drizzle the oil around the edges of the gum and let it soak for 5 to 10 minutes. The oil will sometimes dissolve the gum.

Scrape the gum with a plastic spatula. You don't want to use metal under a wooden table because it can scratch the wood. A plastic spatula can pry the gum out from under the table without damaging most tables. Scrape with a metal spatula if your table is glass.

Put a couple drops of dish soap around the edges of the gum if the vegetable oil doesn't work. It's not necessary to wipe away the vegetable oil first. In fact, the soap will help remove the vegetable oil.
Tips
Be cautious of the finish or stain on your table, and make sure that all of the residue from soaps and oils are thoroughly removed when you're finished.
Warnings
Always wear protective gear when handling used chewing gum. Rubber gloves can protect your skin, a dust mask or surgical mask can protect you from air borne (gum borne) illnesses and protective eye wear or goggles can prevent your eyes from being injured if you happen to pry off the gum too quickly.
Writer Bio
Lisa Russell has been a writer since 1998. She's been published in Rethinking Everything Magazine, Playdate, AERO and Home Educator's Family Times. She has a Bachelor of Science in business marketing management and a professional background in marketing, education, cosmetology and hospitality.
Photo Credits
ccmackay (child) and o0o0xmods0o0o (gum) at morguefile.com
More Articles