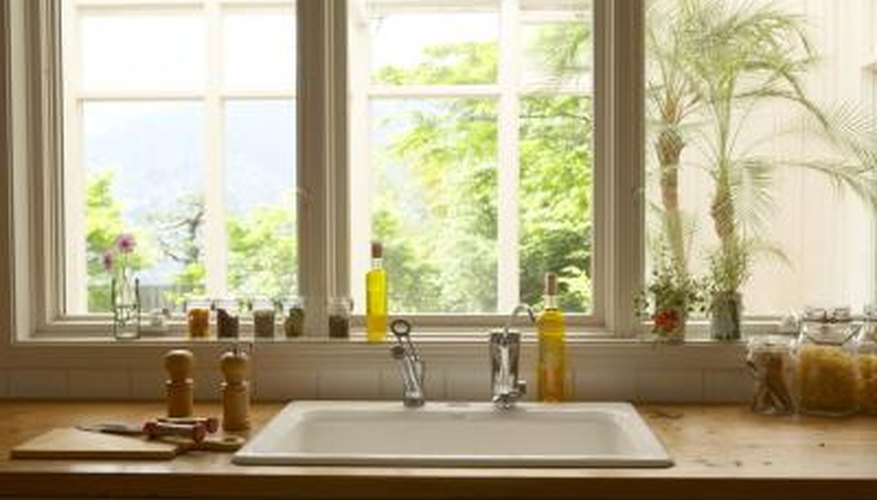 All styles of countertop materials -- marble, laminate, wood -- have their pros and cons, as does bamboo. When you're looking at a bamboo countertop, keep in mind that it has many of the same properties as a wood countertop. If a wood countertop would work for you, chances are a bamboo countertop will be an equally good, or even better, choice.
Step 1
Pick bamboo if it fits the look of your kitchen. If you want an ultramodern look, bamboo countertops are probably not for you. On the other hand, if you want to combine modern with a bit of rustic, or go minimalistic with a Japanese style, bamboo countertops work well.
Step 2
Calculate your budget. As of 2011, the typical cost of bamboo per square foot is comparable to wood, according to Kitchen Countertop Options, with the plank-type running at $35 per square foot, on the low end, and wood slightly less at $30. However, the grained type of bamboo is cheaper at $22 per square foot. Other than laminate, wood and bamboo are some of the most cost-effective options.
Step 3
Evaluate how you cook and operate a kitchen, as bamboo isn't heat resistant. If you tend to set hot things on the counter, you can scorch the countertop. However, bamboo is harder and denser than most hard woods, claims the Totally Bamboo website -- which also mentions that it is 16 percent harder than maple, the most common wood used for cutting boards.
Step 4
Choose bamboo if you don't mind a little maintenance. You will need to apply oil on occasion, although bamboo countertops generally don't need to be oiled as often as other wood countertops.
Step 5
Go green. Bamboo countertops are a good green choice, since bamboo is a renewable resource. Many of the retailers who sell bamboo countertops are aware their buyers may be green (and may be green companies themselves), so you are likely to find bamboo countertops that have been put together without any harmful chemicals -- a huge bonus when preparing food on them.
Tip
Bamboo countertops can be bought in segments or custom ordered.