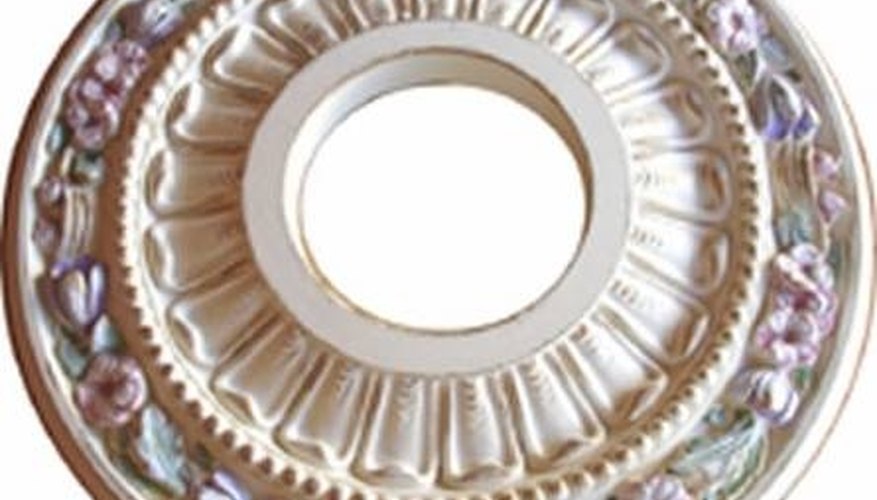 Sometimes they're used as a base for light fixtures, or are merely included in the architectural design of the ceiling. Either way, if you've got an artistic side and you think that the trumpets that those angels in the medallion are blowing should painted gold-leaf instead of the same plain white as the rest of the thing, you should go for it. The beauty of this project is that if you don't like the results, you can just re-paint the whole thing white and start from scratch.
Lay a tarp on the floor under the medallion. Set your ladder up to reach the medallion. With your painter's tape and newspaper, tape off the wall at the border of the medallion. Make sure the newspaper covers the ceiling for at least a foot around the medallion. If there is a light fixture in the center of the medallion that can't be easily removed, tape it off as well.
With your spray paint can, put a light coat of flat spray paint all over the medallion. Keep the can about a foot back and in constant motion as you spray. You want to make sure all the shapes are coated with paint, but that it doesn't gather up and drip. Wait an hour and put a second light coat on, if necessary.
Once the base coat is dry, take your first color of paint and small paintbrushes up the ladder and paint the individual features on the medallion that will use that color. Paint it freehand, using the smallest of the brushes to do the edges of the features. Make sure to have a cup of water and paper towel handy to wipe off any paint that inadvertently strays outside the areas where you're trying to put it.
If you'll be using multiple colors to paint the designs, use one color at time, paint all the features that will use that color, let it dry to the touch, then do the next color and so on.
When it's all dry, use a small dish of flat white paint and a small brush to touch up any areas where the colors bled into the white background.
Things You Will Need

Painting tarp Ladder Painter's tape or masking tape Newspaper Can of flat white or off-which latex spray paint Small can of liquid white paint Small jars of semi-gloss or high-gloss colored paints, in whatever colors are desired Several small artist's brushes of various sizes Cup for water Paper towels