How to Identify Majolica
The vivid, glazed earthenware known as majolica was first decorated with images popular in the Renaissance -- lions, mythological beasts and rams -- and with fruit -- vegetables, leaves, birds and seashells. It didn't take long for Asian exotic motifs -- bamboo, elephants, monkeys -- to pop up, and, from 1849 to 1900, the common folk of Victorian England stuffed their parlors and breakfronts with the bright pottery. Current collectors have driven up prices for original majolica, and it's once again high style.
Making Majolica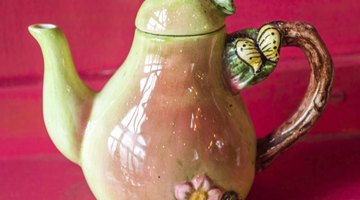 Majolica was designed to be manufactured relatively inexpensively, and to be charming and fun. Clay was shaped solidly in a mold, fired to biscuit stage, coated with a tin or lead glaze, over-painted with the design in colored metal-oxide glazes, and then fired again. The result was a bright, gleaming, opaquely glazed pitcher, tea set, planter, animal figure, dish, platter or urn. Pieces were mostly identical, due to factory-style mold production, but varied because the glazes were hand-applied with different degrees of skill.
The Allure of Whimsy
The vivid colors of the pottery don't fade, although they may craze slightly over time. A seafood platter of detailed fish on a bed of seaweed, fanned around a central dip cup, is as captivating today as it was in the 19th century. Pitchers designed to look as if they were made from bamboo stalks, ears of corn, sunflowers or leaf clusters and blossoms brightened up a breakfast or luncheon table. Leaf designs were an entire category of majolica: Plates shaped like begonia leaves flew off the shelves. Whimsical subjects made each acquisition a conversation piece and inspired a Victorian collecting frenzy.
Signs of Authenticity
Majolica is earthenware, softer and more fragile than porcelain, and the original pieces were solid molds without hollow handles -- the decorations and figures were part of the mold, not added on. Glazes are rich, cheerful and lead- or tin-based, and individual manufacturers stuck to their own palette of glazes. Umbrella stands, candlesticks, serving platters and farm-pig tobacco holders all have a lighthearted, humorous character. Bottoms may be glaze-covered from dipping, but many older pieces have unglazed bottoms, feet and table rings. Marks to look for include Minton, Wedgwood, Joseph Holdcroft, George Jones and Wooster Royal Porcelain, among other British manufacturers. American majolica producers included Griffin, Smith & Hill -- marked GSH or Etruscan -- and Chesapeake Pottery.
Spotting Fakes
Today's majolica-style pottery is produced inexpensively in Asia, in colors and shapes that mimic the classic pieces. You might enjoy a droll and colorful bargain vase or glazed animal, but you shouldn't be fooled into thinking you're scooping up an antique bargain. Hallmarks of contemporary reproduction majolica ware include shapes that may not be as finely detailed as the early work; gaudy colors -- the originals are lustrous and rich, not loud and brassy; an absence of identifying marks -- not definitive as not all antique majolica is marked; sloppy painting with drips and blurred lines. Cheaper modern majolica can make a lively, fun addition to your decor; just be sure to pay a non-vintage, authentic inexpensive price for it.
References
Writer Bio
Benna Crawford has been a journalist and New York-based writer since 1997. Her work has appeared in USA Today, the San Francisco Chronicle, The New York Times, and in professional journals and trade publications. Crawford has a degree in theater, is a certified Prana Yoga instructor, and writes about fitness, performing and decorative arts, culture, sports, business and education .
Photo Credits
Lalith_Herath/iStock/Getty Images
More Articles