How to Repair Canvas Patio Furniture
Patio furniture is often covered with canvas material as the fabric is more durable than indoor furniture. Anything from patio chairs, awnings, and patio umbrellas are all types of furniture that are made of canvas. And because it is withstands outdoor abuse, they can often get ripped or torn in the process. However, rather than replacing the entire unit, simply sewing the ripped parts can be done relatively easily with little expense.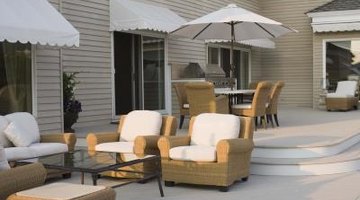 Step 1
Cut a piece of canvas. For thin canvas coverings on furniture, cut a piece of canvas, a little larger than the torn area, and with the end of a spoon, insert the canvas underneath the tear and lay it even to cover the entire area.
Step 2
Secure the canvas. Secure the canvas onto the piece of canvas underneath with a pin so that the piece of canvas will remain directly under the ripped or torn area.
Step 3
Apply latex adhesive. Carefully apply the adhesive onto the canvas piece without overflowing onto surrounding surface area. Make sure to apply the glue over the entire area that is torn above.
Step 4
Close the flap. Close the ripped flap onto the glue. Secure the canvas with a couple of pins until completely dried.
Step 5
Sew the tear. For thicker canvas material such as patio umbrellas, use heavy duty thread to sew the tear or rip. Be sure to get a similar colored thread before sewing to blend in. For large rips, use a sewing machine and a heavy duty needle.
References
Writer Bio
Nikki Cash graduated from UCLA with a bachelor's in film/TV, where she won an MPAA Scholarship. Since graduating, she has written and produced an independent feature film starting her career as a writer in 2005. Cash enjoys writing eHow articles with topics ranging from home improvement to crafts.
Photo Credits
Jupiterimages/Comstock/Getty Images
More Articles