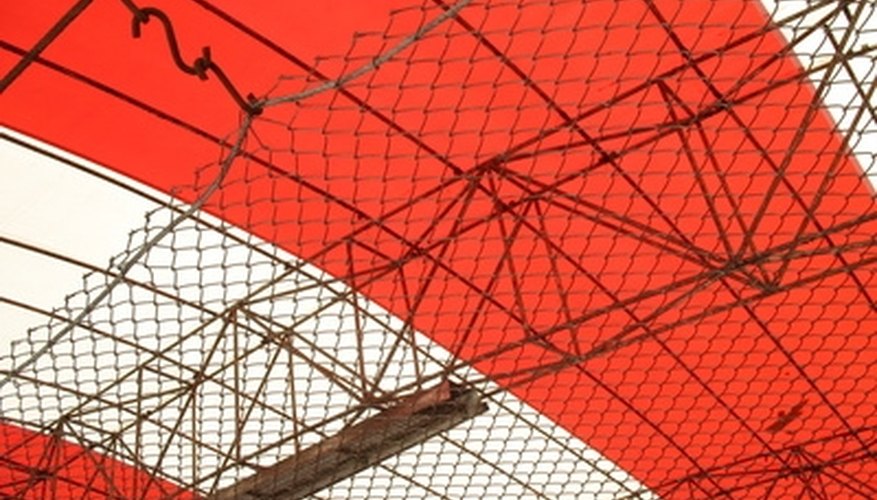 This product installs above head and, depending on the size purchased, covers a designated area to provide escape from the UV rays of the sun. The material used to create the sail needs regular cleaning and is limited in its application. For example, chlorine, such as is found in swimming pools, may break down the fabric. Before installing the shade sail in a residential area, check local building codes to avoid violation.
Locate the desired area for the Coolaroo shade sail. Be certain the chosen product will install in the desired location. The factors that determine this include the size and shape of the shade sail.
Inspect the chosen locations where the fixing accessories, such as u-bolts and turnbuckles will attach. The strength of the location for the fixing accessories is crucial to a successful installation. For example, if a connection needs to be on the fascia of a house, make sure the fascia is sound enough to withstand the tension needed for the shade sail.
Install the fixing accessories needed at each point for the correct installation of the shade sail. If using the fascia of a house as a fixing accessory location, first install a fascia support. These are used in the construction of the fascia a support between it and the rafters of the house. There is one for metal fascia and a different one for wood fascia.
Place the stepladder under the fascia at the location needed. Secure the fascia support with 2-inch deck screws. Since the fascia support has holes already in it, hook the fixing accessory of your choice in one of the holes and move on to the next fixing accessory installation point.
Add a treated 4-by-4-post with a treatment level of H5. This level of treatment is specifically designed to retard decay. The hole for the post must be 16-inches in diameter and 32-inches deep with 4-inches of 3/4-inch gravel in the bottom of the hole.
Mix the concrete for the posts as instructed on the bag. Fill the hole all the way to the top with the concrete, packing it down as you do. Install the fixing accessory to the post with 2-inch deck screws. After the installation of the fixing accessories, lay out the shade sail with the corners facing each of the fixing points.
Hook the corners of the shade sail to each of the fixing accessories with a turnbuckle if needed. Tighten them to the needed tension to hold the shade sail in place with a ratchet-tensioning tool. You may need cable or heavy wire to run from the fixing accessory to the corner of the shade sail.
Things You Will Need

Stepladder
Variable speed drill
Phillips-head screw tip
2-inch deck screws
Turnbuckles (optional)
Wire cable (optional)
Ratchet tensioning tool
Tip
Re-tensioning will be required periodically.