How to Seal & Stain a New Redwood Fence
You've just finished building a brand new redwood fence. It looks beautiful. But how do you maintain the beauty of new redwood while also protecting your investment from harmful ultra-violet (UV) rays and damage from exposure to water? A quality penetrating oil-based stain is a good way to protect your redwood fence, and keep it looking great.
Preparation and Application of Wood Stain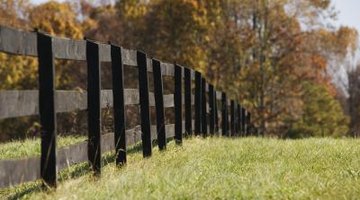 Step 1
Clean the fence with a quality wood cleaner. This will remove any dust and grime from the fence. In addition, the wood cleaning process will break "mill glaze." Mill glaze is a condition that flattens the pores of the wood, and can cause issues with the stain properly penetrating into the wood's surface.
Do not be alarmed if the wood turns black after cleaning! This is natural, and treatable. New redwood tends to contain a high amount of tannins. Tannins occur naturally in the redwood tree, and help to protect the living tree in the event of fire or other damage, by bleeding to the surface. Tannins can continue to bleed to the surface of the wood even after it has been milled. The wood cleaning process can bring tannins to the surface and cause the wood to turn very dark, even jet black.
Step 2
Brighten the wood. If the wood has darkened during the cleaning process, use wood brightener. A good quality wood brightening product will neutralize tannins and restore the wood's natural beauty. If the wood has not darkened during the cleaning process, there is no need to use wood brightener.
Step 3
Allow the fence to dry thoroughly prior to staining. 24 hours is generally recommended.
Step 4
Apply the wood stain. Stain can be applied using a brush, roller or sprayer. If you are applying with a brush or a roller, make sure to maintain a wet edge. If you allow the stain to dry and then go over it, you may notice lap lines. Cover each individual board completely before moving onto the next.
Step 5
Back brush. The stain should penetrate within 15 to 30 minutes. After that, any stain remaining on the surface of the wood will probably not soak in, and could result in a tacky, sticky finish that will attract dirt and mildew. Use a dry brush to remove any excess stain that is not penetrating completely into the surface of the fence wood.
References
Tips
Penetrating oil-stains are typically a one-coat formula. There is no need to apply a second coat, or a sealer over the top.
A quality penetrating oil stain will not cause water to bead. Instead, water should sheet off of the wood. If water is absorbing into the wood, not enough stain has been applied.
Warnings
Make sure and wear appropriate clothing and safety equipment when working with oil-based stains and wood cleaning products.
Wood cleaners are generally concentrated and can be very strong; strong enough to burn skin. Make sure and wear proper protection, and follow all manufacturer's instructions, when using wood cleaning products.
Writer Bio
Robert Howard has been writing professionally since 2004 and writes a weekly column for the "Synthesis," a Chico, Calif.-based newspaper. He maintains a blog and has published articles and works of fiction in a variety of different print and online magazines. Howard holds a Bachelor of Arts in visual arts from the University of California, San Diego.
Photo Credits
Comstock Images/Comstock/Getty Images
More Articles