How to Prevent Sweat on a Leather Chair
Lounging in your favorite leather chair can leave sweat and body oil stains on the upholstery. This shadow-like stain can leave your once-luxurious leather chair looking old and ratty. With proper care, you can prevent sweat stains from forming on your leather chair.
Protecting a Leather Chair From Sweat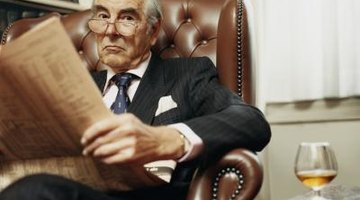 Step 1
Clean your leather chair using the leather cleaner. This will remove any dirt, grime or oils that have built up on the furniture. Using one of the clean cloths, apply the leather cleaner to a small, unnoticeable spot to test for colorfastness. If the leather dye does not come off on the cloth, proceed by cleaning the entire chair.
Step 2
Treat the chair with leather protectant by applying the protectant with the other soft, clean cloth to the entire chair. The leather protectant will seal the porous leather upholstery, preventing sweat or other body oils from sinking deeply into the leather and leaving stains.
Step 3
Treat the more heavily used areas of the leather chair with a larger amount of the leather protectant. You may even want to go over these areas twice.
Step 4
Prevent sweat from seeping into your leather chair and staining the upholstery by repeating this process between two and four times a year. If the leather chair is used on a daily basis, however, it should be cleaned and protected at least four times a year, maybe more.
References
Resources
Writer Bio
Deb Katula has written and researched for Societe Generale, FIMAT, Nikko Securities, Chicago Mercantile Exchange and Arthur Anderson. She holds an MBA in economics and finance from the University of Chicago; a Japanese language fellowship from Harvard; and a Bachelor of Arts in business/psychology/Asian studies from Augustana College.
Photo Credits
Digital Vision./Digital Vision/Getty Images
More Articles