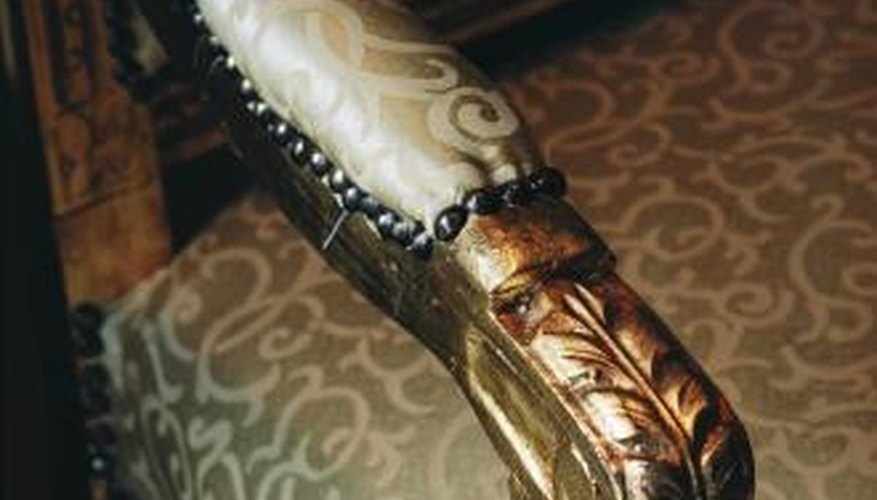 Over time, it's likely they'll get scratch marks, cracks and weakened joints. Fortunately, most superficial damage can be easily fixed with a few products, saving hundreds of dollars of repairs at a professional woodworker's shop. Extend the life of your furniture with a few do-it-yourself methods, and be nice to your wallet at the same time.
Step 1
Survey the arm of the chair and observe scratches, cracks or loose joints.
Step 2
Purchase supplies according to your assessment of what needs to be fixed. If there are cracks, purchase wood filler or epoxy along with a wooden spatula or nylon brush to apply it.
Step 3
Clean the surface of the arm using wood cleaner. Allow to dry.
Step 4
Apply a furniture stripper to strip any finish or paint from the arm if you plan to repaint or refinish the piece. Wear safety glasses, gloves and crack open the windows for ventilation.
Step 5
Tighten any screws at the joints with a screwdriver. Or replace broken furniture pegs or nails. Tighten joints using wood glue.
Step 6
Sand off scratch marks using a fine-grit sandpaper.
Step 7
Finish with fresh paint, fresh polish, or refinish the piece with new wood stain matching the old color as closely as possible.
Things You Will Need

Gloves
Wood glue
Wood epoxy and spatula
Wood polish
Screwdriver (if needed)
Furniture stripper (optional)
Safety goggles (optional)
Sandpaper (optional, fine-grit)
Paint (optional)
Wood stain or finish (optional)
Tips
Use steel wool to get out deep scratch marks, followed by a fine-grit sandpaper.

If cracks are very large, consider replacing the entire arm or getting a piece custom-made to replace the arm.