How to Install a Gazebo on Grass
The iconic gazebo is viewed by most as a small slice of pure Americana. A small group of friends, gathered on a sunny afternoon enjoying a cool breeze in the backyard gazebo -- nothing can be more relaxing. Installing a gazebo yourself can amount to substantial cost savings. With a few simple steps, installation on a grassy surface is easy and will ensure that the gazebo will last for many years.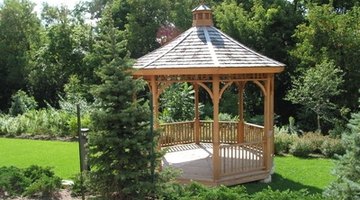 Measure the outside footprint of the gazebo, where the widest part of the gazebo meets the ground. Then measure the dimensions of the 4-by-4-inch wooden runners that provide structural support on the bottom of the gazebo.

Decide if you'll incorporate landscaping around your gazebo, or just install the gazebo itself on the lawn. If you install landscaping (such as flowers and shrubs) around the gazebo, work from the outside footprint measurement taken. If not, use the dimensions of the 4-by-4-inch wooden runners that provide structural support on the bottom of the gazebo.

Dig the foundation hole to a depth of 5 inches, using the measurements taken (either with or without landscaping). The foundation should be flat and level. If the gazebo is not of a square design, make sure that the foundation represents the basic shape of the gazebo. Be sure it is in the direction you want it to face.

Install either plastic sheeting or a weed barrier to the bottom of the foundation hole. This will prevent weeds from growing up between the floorboards.

Lay a bed of gravel on the weed barrier and spread it out. The gravel should be approximately 3 inches deep. Place the gazebo on top of the foundation.
References
Tips
If landscaping will be installed around the gazebo, add an extra 24 inches to the overall dimensions used to dig the foundation (in the areas that will be planted). No gravel is needed in these areas, but the weed barrier should still be applied.
Writer Bio
Residing near the Central Florida beaches, Steven Douglas has written extensively on resolving small-business issues since 1990 in publications such as ForexFactory, Forex-Tsd, FxStreet and FxFisherman. After earning a master's degree in administration from the University of Maryland, his primary focus has been on international currency trade and how it can be effectively utilized by small businesses across the United States.
Photo Credits
More Articles