How to Clean Rusty Gold Plated Rims
Gold plating on the wheel rims of your tires can add a certain element of class and sophistication to your car's aesthetic. However, if rust begins to form on those gold-plated rims, the visual effect is ruined. The rust can be dealt with at home though, and with a few key household ingredients, your rims will be sparkling again soon.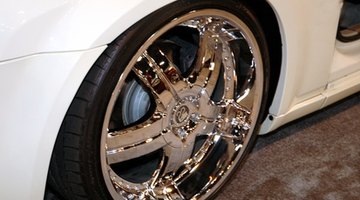 Wipe the bucket out with a paper towel, to ensure that it is clean and free of any debris.

Measure 2 cups of warm water into your bucket.

Measure out a cup of lemon juice and add it to the bucket of water.

Measure a cup of white vinegar and add it to the lemon and water mixture in the bucket.

Dip the clean rag into the mixture and use the moistened rag to wash the rust stains from the affected areas of the tire rims. Make sure to clean thoroughly, paying special attention to any intricate detail work in the tire rims.

Rinse the tire rims with clean, cool water.

Repeat the process if necessary to remove stubborn rust stains.

Dry the rims with clean paper towels.
References
"Cleaning Plain & Simple"; Donna Smallin; 2006
Tips
It is not necessary to remove the rims from the tires to clean them, but if you wish to, this should be done before attempting to clean them, and replace them once they have dried.
Warnings
Both the lemon juice and white vinegar have naturally occurring acids in them, so it's a good idea to rinse the rims quickly after using this solution to clean off the rust stains.
Writer Bio
Noel Stanchfield is a travel, health and beauty writer. She has been writing from firsthand experience since 2004, contributing to various online publications.
Photo Credits
More Articles