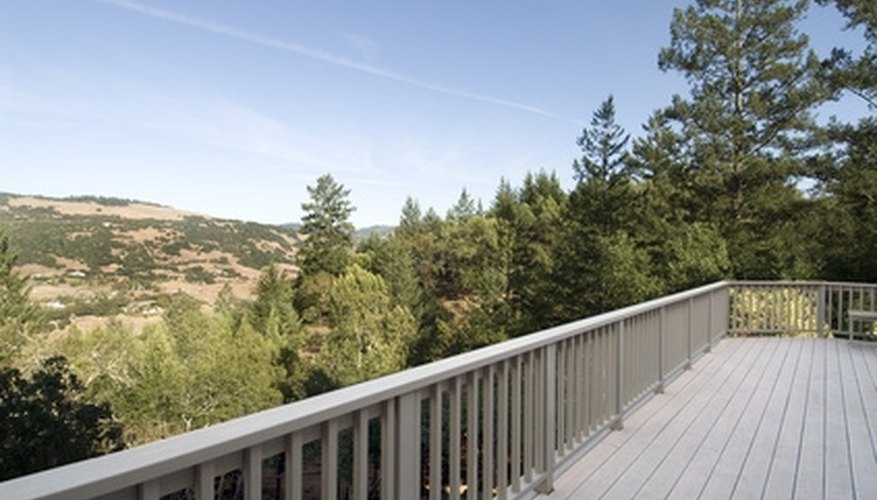 However, a deck needs to be a safe place and not a potential fall hazard. A deck needs a sturdy railing that meets the BOCA code for your area of the country. The do-it-yourself handyman can install a sturdy wood deck railing using common woodworking tools.
Cut a 4-by-4-by-8-foot post so that you have two 42-inch posts. Use a miter saw for this step.
Cut a 2-inch by 8-inch notch out of one end of each of the posts. Use a band saw to cut the notch.
Repeat the first two steps to get the total number of deck posts needed for your deck.
Drill two holes through the notched portion of each post and into the rim joist of the deck. Use a drill with a bit the size of a 6-inch carriage bolt. Attach the deck post to the rim joist using the carriage bolts and an adjustable wrench. The posts need to be spaced no more than eight feet apart, center to center. Use a 4-foot carpenter's level to make sure the posts are plumb before attaching them to the rim joist. You will need to notch the deck boards as needed for the posts to fit.
Start at the left side of the deck and place a 2-by-4 over the first two posts. Mark the rail so that it will lay in the middle of the second 4-by-4 post. Cut this to length using a miter saw. This shows you the actual length needed for the wood deck railing for this pair of deck posts.
Attach the top rail to the post using 3-inch exterior deck screws. Set the head of the screw so that it is even with the surface of the wood. Make sure that the deck railing is aligned with the post before you screw it in place. Use a power screwdriver for this step.
Repeat steps 5 and 6, working to your right for the remaining railings needed for the deck.
Things You Will Need

4-by-4-by-8-foot pressure-treated posts
Miter saw
Band saw
4-foot carpenter's level
Drill with bit
6-inch carriage bolts
Adjustable wrench
2-by-4-by-8-foot wood deck railing material
3-inch exterior deck screws
Power screwdriver
Tip
Spacing the posts at equal intervals will make the deck more visually appealing.