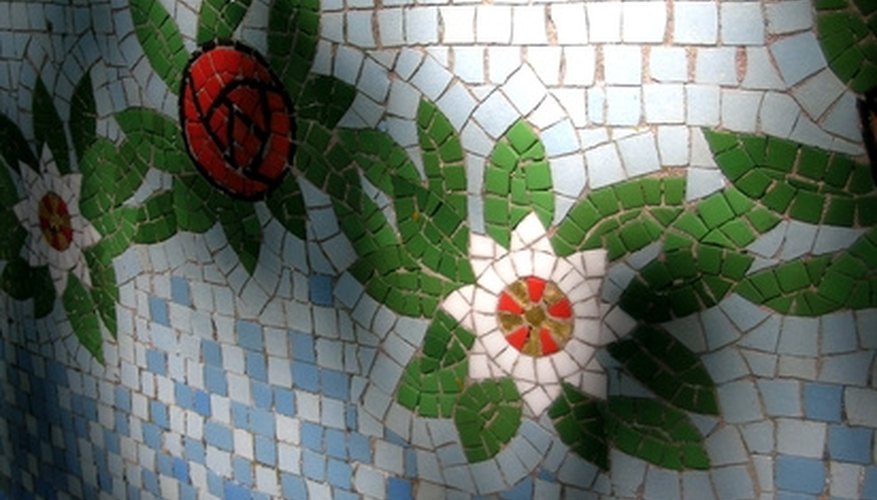 To help facilitate the installation of these small tiles, they often are mounted onto sheets. Two varieties of mosaic sheet material are available--mesh-mounted and paper-faced. Mesh-mounted material has a mesh stuck to the back of the tiles, holding them together. Face-mounted material has brown craft paper or contact paper stuck to the front of the mosaics. Regardless of which type you're working with, cutting the sheets is the same.
Lay out your mosaic sheets in the area you wish to install them to ensure you are leaving the proper amount of space between each sheet. This space should be equal to the spaces in between the mosaic tiles within each sheet.
Cut the mesh or paper of a sheet of mosaic tiles with a razor blade. Hold the sheet down flat with one hand, and press the razor into the mesh or paper with the other, pulling it toward you in a single cut. Cut the sheet as close as possible to where the tiles should end. Occasionally, you'll also have to cut the tiles themselves to ensure the proper fit.
Cut individual tiles on a sheet, once the mounting material has been cut, with tile nippers. Tile nippers have a squeezable handle, similar to scissors, with a strong, carbide-tooth bite. Place the metal teeth of the nippers around the tile, and squeeze the handles to nip the tiles in two.