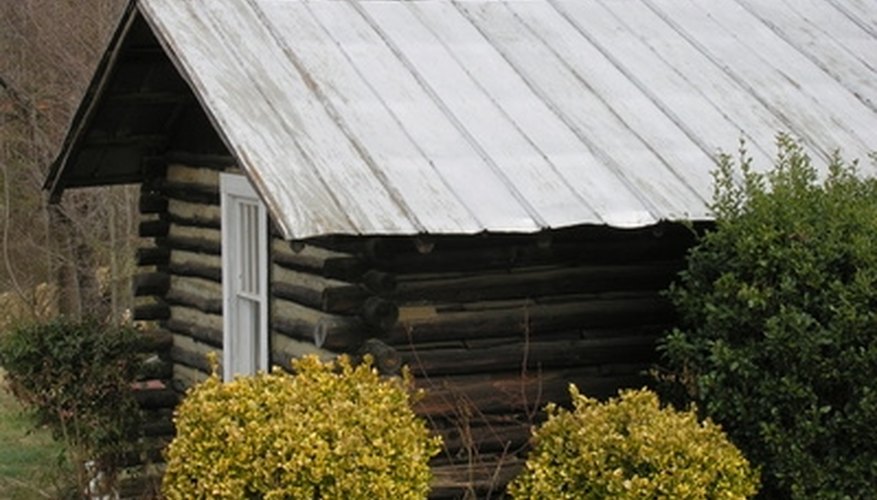 Depending on building restrictions in a given locale, an individual can utilize any number of new and recycled materials to create a nice living space. Plan to build the cabin in stages, but strive to get the cabin under roof as quickly as possible. Once the basic home exterior is in place, its easier to work on the interior on weekends or holidays. Engage experts to offer advice in initial planning, since log cabin construction is unique. Framing and installing whole or half logs is not a typical home building project.
Go over log cabin design books, magazines featuring log cabins and websites with cabin kit plans. Gain an idea of the exact type of log cabin to build. Define a workable budget next. Involve an expert who understands how to build with logs, since this type of construction can be complex. Fitting or stacking round or square-cut logs can require some coaching. Decide on a floor plan and review construction details with a building expert before obtaining a building permit.
Devise a materials list that includes whole logs for part or all of the cabin. Add half logs on part of the structure as an option to save money. Consider installing plywood across a porch section, for example, which will be covered in a facade of half logs. Construct major framework of the overall cabin with whole logs, if budget permits, but also plan to incorporate stacked stones or river rocks in the design to add visual interest.
Dig the footings for the cabin foundation, which should be built of cinder blocks. Construct the foundational crawlspace at least four feet off the ground. Leave a crawlspace door to check under the cabin periodically for problems with water leakage or other issues. Cover the cinder blocks with stucco material or stones filled with mortar in between.
Erect floor joists and install logs precut from a kit package or logs cut on site. Build all walls and the roof area to be enclosed, quickly followed by installation of all windows. Use a metal roof, if plans include a wood-burning fireplace, since leaves on a roof can easily catch fire from sparks. Have the cabin treated for termites before continuing construction. Build a front porch floor of heavy timber floor joists 2-by-12-inches covered by plank decking. Install a porch roof with 2-by-10-inch rafter boards and cover with plywood and metal sheeting.
Insulate all rafter areas with fiberglass insulation. Install drywall or plywood in the ceiling areas to cover the insulation. Hire an electrician to install electrical outlets and lights. Install kitchen and bathroom plumbing fixtures with the help of a licensed plumber. Nail down flooring planks last, after all interior work has been completed.
Things You Will Need

Cabin design books
Log cabin magazines
Websites featuring cabin designs
Building consultant
Materials list
Defined budget
Building permit
Electrician
Plumber
Tip
Consider framing part of the interior of the cabin, unless it's constructed of whole logs only. Frame the interior to make space for a high R-value of insulation, covered by drywall, so the cabin will be comfortable year-round.