Step 1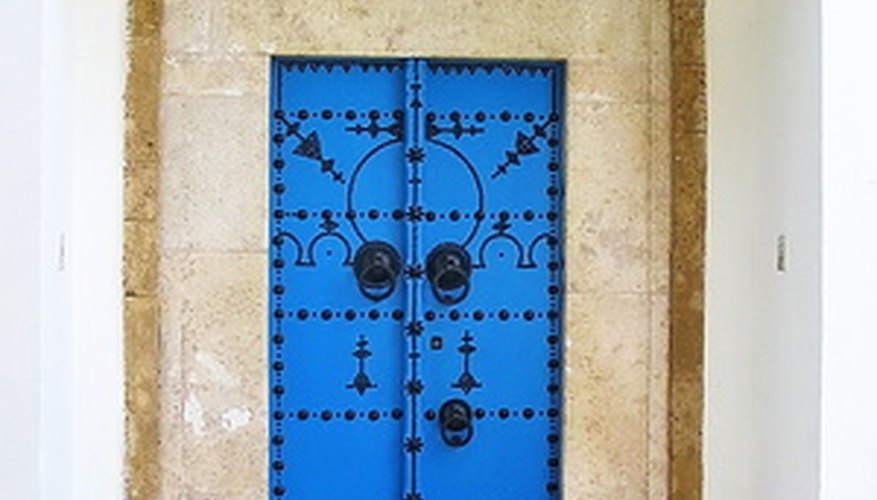 Remove the door by taking out the hinge pins. Put your drop cloths under the sawhorses and lay the door flat between the two sawhorses. Remove the hardware.
Step 2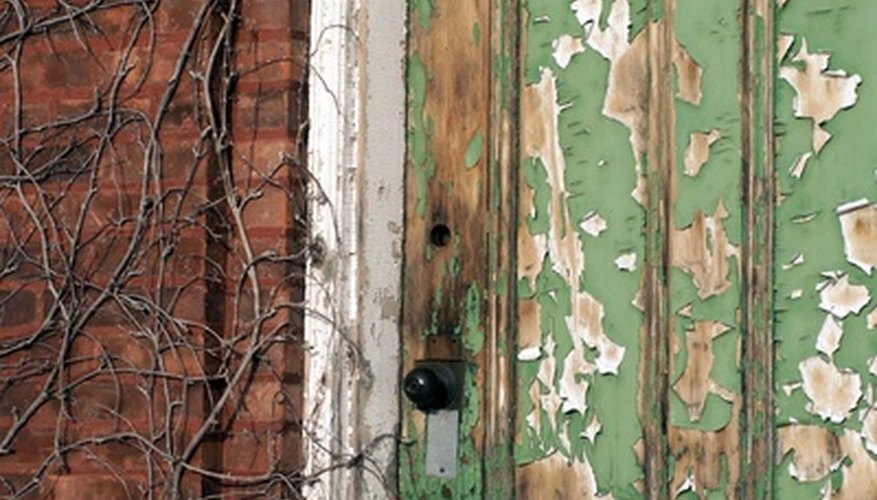 Strip the paint with a paint stripper (follow the manufacturer's instructions) if the door is painted. If the door is stained, use a palm sander with fine-grit sandpaper (220 or 240) and lightly sand the door. Brush off the dust with a bench brush and wipe the door with a tack cloth. If you're staining, go to step 6.
Step 3
Scrape off the paint after leaving the stripping compound on for the appropriate length of time (follow the directions on the label) using a scraper tool. Repeat steps 2 and 3 until the wood is exposed.
Step 4
Neutralize the paint stripper as directed on the paint stripper neutralizer instructions.
Step 5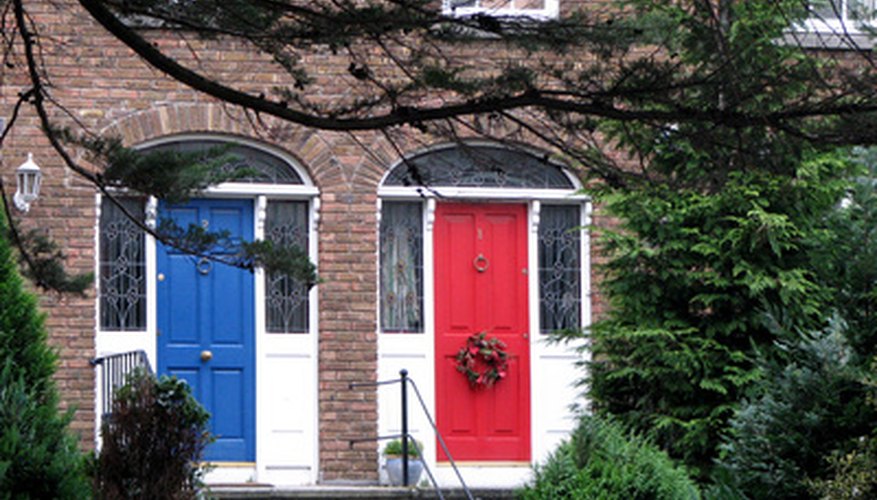 Sand the door to remove the last bits of paint and smooth out any rough spots. Brush off the dust with a bench brush and wipe the door with a tack cloth.
Step 6
Inspect the wood for areas of damage. Remove any rotted areas or old wood filler with a chisel or scraper and apply a wood stabilizer, following the instructions on the label.
Step 7
Condition the wood with a wood conditioner (follow the directions on the label) if you're staining. If you're painting, apply a coat of primer to the door. Let dry. If the primer doesn't cover well, lightly sand the door with a fine-grit sand paper (220 or 240-grit), remove the dust and apply a second coat. Let dry.
Step 8
Lightly sand the conditioned or primed wood with fine-grit sandpaper and remove all the dust.
Step 9
Apply two coats of enamel or stain, sanding lightly, removing the dust and drying completely in between coats.
Step 10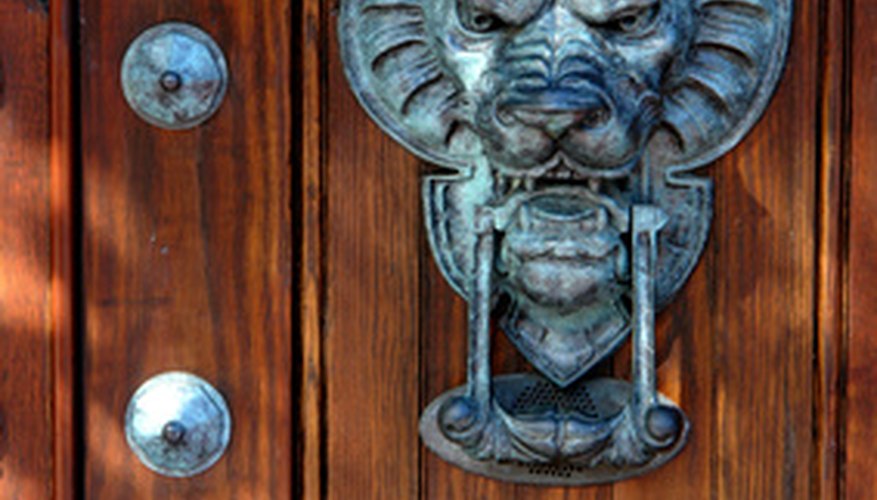 Apply at least two coats of high-quality marine or spar varnish if you're staining an outside door. Replace the door hardware and remount your door.
Things You Will Need

For painting:
Paint stripper
Paint stripper neutralizer
Primer
Enamel paint
Paint brushes
Scraper
For staining:
Wood conditioner
Stain
Staining pads
Foam brush
For painting or staining:
Sandpaper
Sander
Sanding block
Tack cloth
Wood glue
Wood filler
Putty knife
Drop cloths
Safety glasses
Mask
Rubber gloves
Sawhorses
Drill with screwdriver attachment
Tips
Restoring doors is a job best done outside, but if you're inside make sure you have proper ventilation.
Keep the palm sander moving on the wood at all times to avoid damage to one spot.
Use high-quality acrylic enamel or stain that's appropriate for your door, i.e., UV protection, weatherproof, easy to clean, etc.
Use good quality paintbrushes.
Always follow the grain of the wood when sanding or applying conditioner, primer, enamel or stain.