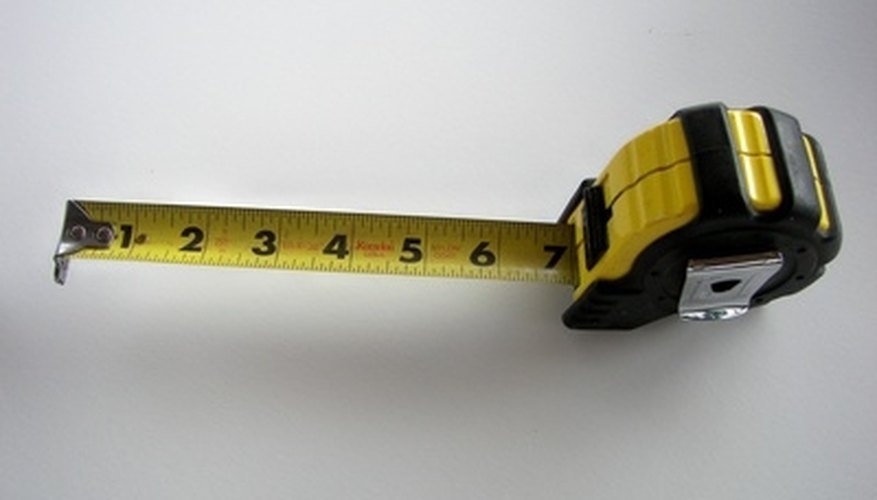 Trying to figure out how many single or double rolls of paper are needed is an entirely different situation. It is important to measure the walls in the room before shopping for wallpaper. Wallpaper is an investment in the atmosphere and appearance of the home, and this is not a time to guess at the amount of paper to purchase. The entire project can be jeopardized or ruined if the paper runs out before the project is finished.
Draw a diagram of the room on a piece of grid paper. Use a ruler to get the lines straight. Add your fireplace, mantel, window, closet, and door openings and anything else that occupies wall space.
Start at the bottom corner of a wall and measure straight across to the other side of the wall. Record the measurement of the width of the wall on the paper. Be sure to measure accurately by the foot. Round up your numbers to the next 6 inches or foot.
Start at the corner of the wall at the ceiling line. Measure down the wall to the molding, baseboard, or floor. Record the measurement of the height of the wall. Exclude the measurements of moldings and baseboards.
Measure any wall that is a different shape, height, or width than the first wall. Measure over the windows and doors to get the wall length. Include the measurements of all walls that are to be covered with wallpaper.
Calculate the square footage of the wall by multiplying the height of the wall by the width or circumference of the area. Add each wall total together. Subtract the square footage of doors, windows, closet doors, and fireplace area from the project totals only when using plain paper. Allow for excess footage when using paper with a print that must be matched by using the full square footage room measurement. Be sure the calculations are correct.
Use the square footage measurements to determine the number of rolls of wallpaper needed for the project. Read the package label which details the square footage coverage of the wallpaper roll. A knowledgeable salesperson is available to help with calculations when a customer is selecting single or double rolls at a wallpaper store.
Things You Will Need

Grid paper
Ruler
Measuring tape or yardstick
Stepstool or ladder