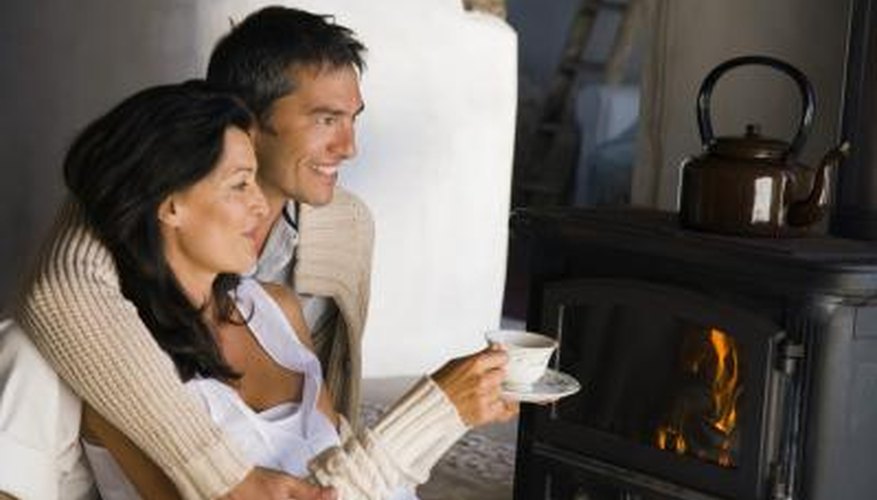 These stoves use an electric fan to force exhaust fumes from the stove and out the wall vent. This prevents the accumulation of harmful gasses in the home. Proper installation of the vent ensures the proper operation of the stove.
Step 1
Place the stove in the proper position. Consult the manufacturer's instructions for information on the clearances necessary between the stove and combustible materials such as walls. Also, because it's necessary for the exhaust vent to extend to the outdoors, the stove must be positioned along an outside wall.
Step 2
Cut a hole through the drywall or paneling on the interior of the house. Size the hole to fit the PL vent pipe approved for the stove. After removing the interior wall and pushing any insulation clear, drill a hole through the exterior wall sheathing at the center of the hole. Use this hole as a reference point to cut a hole through the exterior sheathing to accommodate the double walled exhaust pipe.
Step 3
Insert the PL vent pipe through the hole and affix any outdoor and indoor trim necessary to camouflage any rough edges around the cut. Add a vent cap to the end of the pipe on the exterior and attach the interior end of the pipe to the stove. Plug the stove into an outlet and it should be ready for operation.
Things You Will Need

Power drill
Jig saw
PL vent pipe
Interior and exterior vent pipe trim
Vent pipe cap
Tip
All joints and connections in the exhaust pipe assembly must have airtight seals. Install all stove and ventilation components in accordance with manufacturer's instructions.