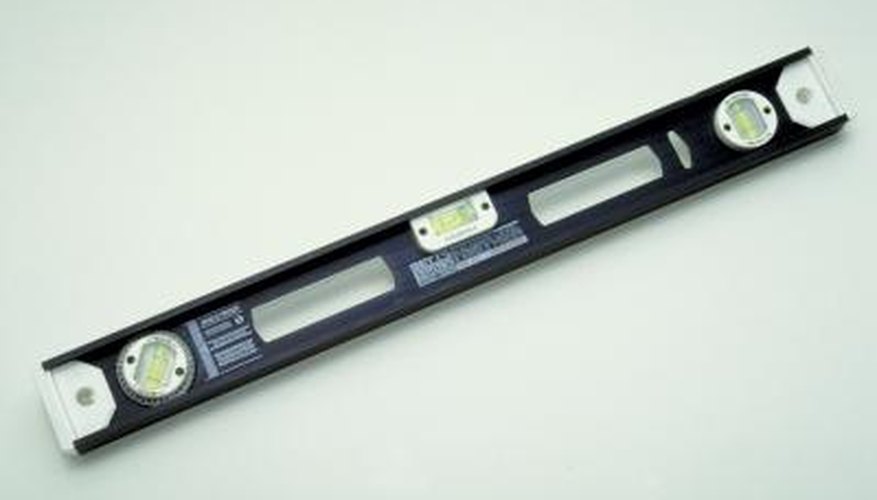 JELD-WEN has made technical advancements to its windows and doors, slightly changing the techniques used for installation. Old style brick molding has been replaced by aluminum and vinyl cladding. JELD-WEN's all vinyl patio doors come pre-assembled with a nailing flange for easy installation. One of the most important parts of installing a patio door like this is making sure that the door is perfectly level. This requires a specific process that will yield perfect results every time.
Step 1
Apply PL 400 adhesive in an S pattern to the sub floor where the door will sit.
Step 2
Pick up the door and slide it into the opening until the nailing flanges touch the framing. Have your partner center the door by shifting it from side to side. The door is centered when the gap between the bottom of the door and the framing on both sides is equal.
Step 3
Use your level on one side to determine if the door is plumb (perfectly vertical). Shift the door to adjust to plumb if necessary and hammer in a 1 1/4 inch roofing nail in the top corner of the nailing flange. Double check both sides with the level and continue securing the door by nailing through the flange.
Step 4
Open the door and go inside. Screw the bottom of the door down through the threshold by using the screws that came with the door. Use your level make sure that you do not over tighten the screws.
Step 5
Insert shims between the framing and the door jamb where the door latch catches the door. Install the adjustable metal latch catch using the long screws that came with the door. Make sure the door jamb remains straight when securing the latch catch, as the screws will insert into the framing.
Things You Will Need

Hammer
1 1/4 inch roofing nails
Cordless drill
Level
Caulk gun
PL 400 adhesive
Wood shims
Tips
If you have wood siding, cut around the perimeter of the door opening about 2 1/2 inches all the way around. This will give you plenty of room to nail the door in place and add decorative trim after the door is installed.

If the patio door is a slider, the door can be adjusted on the bottom with a flat head screw driver. The guides on the bottom of the door will raise and lower by twisting the screw driver, allowing for the door to open and close freely.