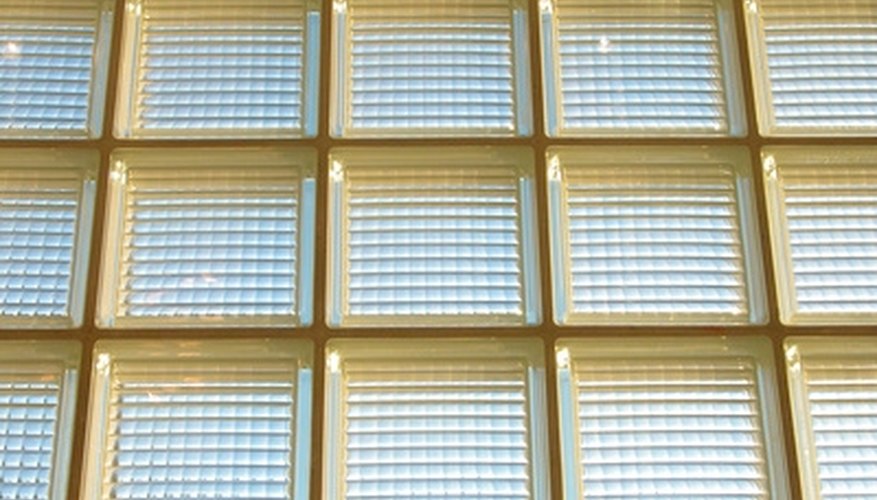 Glass blocks also can be a lot less expensive than a traditional replacement window. Replacing an existing window with glass blocks is a fairly straightforward task. Measure the window, subtract and plan carefully. You will add an inch or two of mortar around the inside edge of the window to secure the block. Choose a block size and shape that will fill the window to these specifications.
Dry-set the blocks in the window opening to determine the layout. Rearrange the design until you have filled the space with at least an inch around all four sides. Determine how much mortar you will need around each side to fill the space. You will need to add mortar to completely fill the space between the glass block and the window frame. Allow for as much as 2 1/2 inches of mortar. Remove the blocks.
Spread the mortar along the bottom of the window frame. Spread 1/4 inch of mortar along the sides and top of the block. Place the first block in the window frame.
Spread mortar along the sides and top of the second block. Set the block in place next to the first. Wipe away any mortar that squeezes out between the two blocks. Continue placing blocks until you have set the first row. Set three courses, or rows, of bricks.
Place a panel anchor in the mortar on one side of the third course of block. String a piece of reinforcing wire along the top of the course. Set a course of brick on top of the wire. Do this for every third row of blocks. Continue until all the blocks are set.
Smooth the mortar along each joint with a jointer. Start at the top of the window and move the jointer down to indent the mortar smoothly.
Wet a sponge with clean water. Wipe the front and back of the bricks clean. Allow the mortar to set overnight.
Things You Will Need

Panel anchors
Reinforcing wire
Mortar
Jointer
Sponge