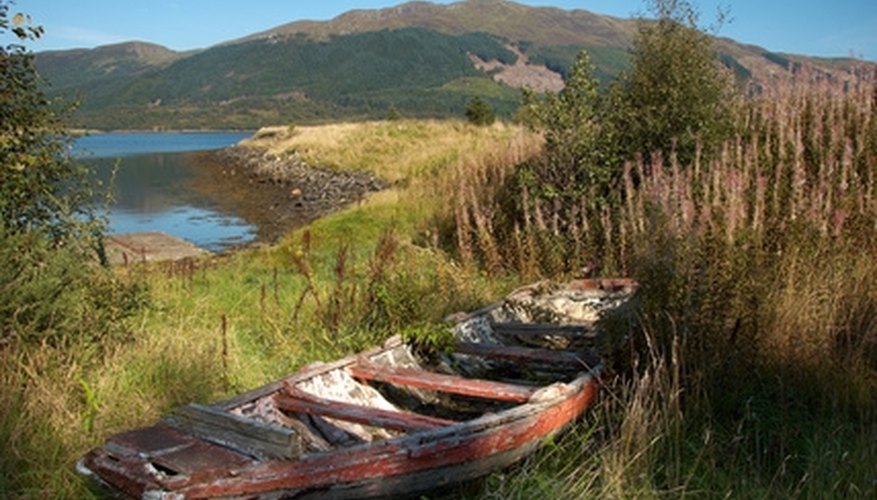 Instead of putting it out of commission, consider decorating the boat with flowers and other plants and making it part of your landscape. A real conversation piece when used as a planter in the garden, an old row boat can be given new life and add character to your yard.
Varnish or paint the old row boat to keep it from deteriorating more rapidly. Use an exterior varnish or paint to keep the weather from making the wood decay any further. Let the varnish or paint dry completely.
Turn the row boat upside down and drill holes in the bottom to act as drainage holes. Drill two rows of holes with a 1/2-inch drill bit. Space the holes about 6 to 8 inches apart and place each row of holes on either side of the center ridge running along the bottom of the boat.
Set the row boat in the area of the landscape you have selected. Shovel dirt around the bottom edge of the boat and pack it well to hold the boat in place.
Fill the inside of the boat with potting soil. Mix in peat or compost to make a well-draining soil.
Select the plants you want to plant in the boat. Some colorful selections include marigolds, daisies, tulips, daffodils and hyacinths. Plant the flowers in the boat and water thoroughly. Keep the plants watered every day so the soil does not dry out. Add fertilizer appropriate for the type of plant you are growing, following the directions on the package.
Attach the row boat to a small wood piling with a rope for further decoration. An old anchor can also be placed on the ground in front of the boat with a rope attaching it to the boat.
Things You Will Need

Old row boat
Varnish or exterior paint
Paintbrush
Shovel
Drill
Potting soil
Flowers