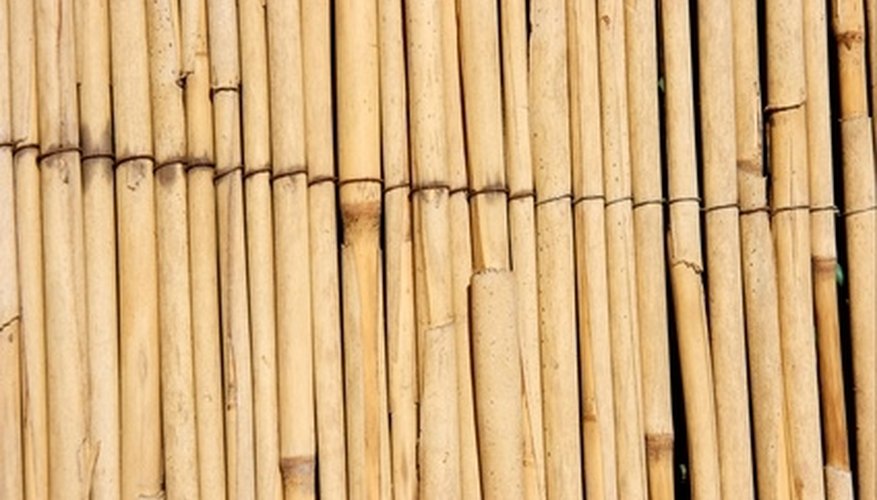 Reed fencing is marketed in rolls of bamboo, willow or cane, usually 15 feet long by 6 feet high. The material is bound together with wire or nylon strands. Do-it-yourselfers with common tools and skills can attach the reed material to a chain-link fence.
Measure out the chain-link fence you intend to cover with the reed fencing. Confirm the length of reed fencing in each roll of the product you intend to use -- it can vary from 10 to 25 feet. Divide the length of the chain-link fence by the length of reed fencing in each roll to determine the number of rolls you need.
Place the reed fencing along the chain-link fencing, starting in one corner of the fence. Pull the reed tightly against the chain link and make sure the reed material isn't resting on the ground.
Wrap a piece of lightweight galvanized wire around the wire band of the reed fence. Pull the two ends of the wire through the chain link. Pull the galvanized wire taut to hold the reed fence tightly to the chain-link material. Twist the ends of the galvanized wire together with pliers.
Cut any loose ends from the galvanized wire with a wire cutter. Put the twisted end of the wire back into the reed fencing to prevent the sharp edges from snagging anyone walking past the fence.
Continue down the first roll of reed material, repeating the wiring process. Repeat the installation process for the remaining rolls of reed fencing material.
Things You Will Need

Lightweight galvanized wire
Wire cutter
Pliers
Tip
Staple reed fencing to any wood fencing or walls that are in the area around the chain-link fencing, to provide a cohesive look.