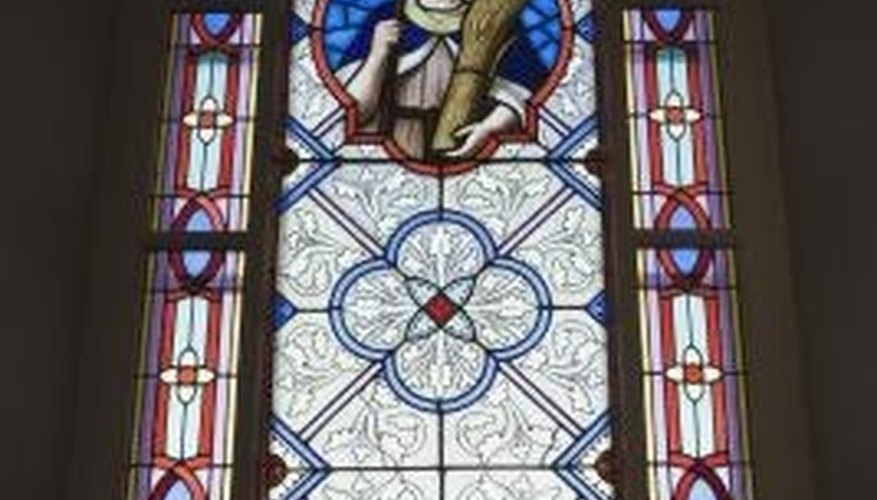 Using an epoxy commonly used by historical building restoration companies, the crack can be sufficiently repaired. According to the Building Conservation Directory, it is important to keep in mind that the epoxy used to repair the crack will break down in the sunlight over a long period of time.
Mix the two parts, part A and part B, of the liquid epoxy by using glass droppers to add one part B to three parts A in a glass mixing container. Use a glass mixing rod to stir the two parts together. According to Talas, Hxtal NYL-1 is the only epoxy that won't discolor when exposed to UV light.
Stick a self-adhesive forehead thermometer strip onto the glass window near the crack so you can see the temperature of the glass.
Hold a hair dryer, set on a low heat setting, about 2 feet from the window glass. Heat the crack and the surrounding area to about 120 degrees Fahrenheit. Don't heat the glass quickly or let it get to a hotter temperature than 120 F. Gradually warm the glass.
Drop the epoxy into the crack using a glass dropper. If your window can be removed or can open at a tilt, this will simplify your repair, as you can drop the epoxy directly into the crack. If your window is installed upright, push the dropper as close to the crack on the surface of the glass as possible. Hold a toothpick or orange stick, a stick with tapered ends, beneath the crack and as you drop the epoxy, guide the adhesive into the crack with the toothpick or stick. Talas reports that the epoxy will soak into the crack very fast and will make finer cracks completely disappear.
Wipe away excess epoxy with a rag. Allow the repaired stained glass to sit undisturbed for at least 1 week. According to Talas, at a temperature of 75 degrees Fahrenheit the epoxy will reach about 90 percent of its bonding strength.
Scrape any excess dried epoxy from the glass with a razor blade after 12 hours have passed. Do not use any sort of cleaning product. After 24 hours, the epoxy can't be removed easily.
Things You Will Need

Hxtal NYL-1 epoxy, or another UV light-resistant glass restoration epoxy
2 glass medicine droppers
Glass mixing container
Glass mixing rod
Self-adhesive forehead thermometer strip
Hair dryer
Toothpick or orange stick
Cotton rag
Razor blade
Tip
According to Hxtal, Hxtal NYL-1 is the leading epoxy used for glass repair and conservation. The British Museum uses this epoxy for repairs on priceless objects. This epoxy is clear and will not yellow. Hxtal epoxy is available at glass restoration companies and possibly at home improvement stores.