How to Remove Avocado Stains
Avocado stains come not only from the pulp of the vegetable, but also from the oil. Oily stains don't rinse out with water. A degreasing dish detergent will remove the oil, and will remove some of the stain. Use baking soda to remove the rest of the stain once most of the oil is removed. As with any type of stain, the faster it is cleaned up, the better chance there is that it will disappear.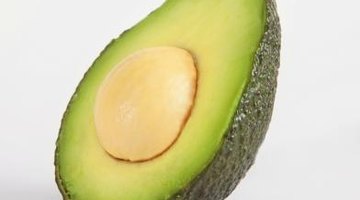 Wet a washcloth with water.

Pour a small drop of detergent onto the stain.

Scrub the stain with the wet washcloth.

Rinse out the detergent with water. Rinse out the washcloth and wipe away the soap if the item with the stain cannot be rinsed.

Sprinkle baking soda over the wet stain. Gently rub the baking soda into the stain. Allow it to sit for 30 minutes. The baking soda may turn green from the avocado stain.

Wipe away the baking soda with a washcloth.

Brush away any remaining baking soda after the baking soda dries.
References
Writer Bio
Racheal Ambrose started writing professionally in 2007. She has worked for the minority publishing company Elite Media Group Inc., Ball Bearings online magazine, "Ball State Daily News" and "The Herald Bulletin." Her articles focus on minority and women's issues, children, crafts, housekeeping and green living. Ambrose holds a Bachelor of Arts in journalism from Ball State University.
Photo Credits
Frank Gaglione/Stockbyte/Getty Images
More Articles