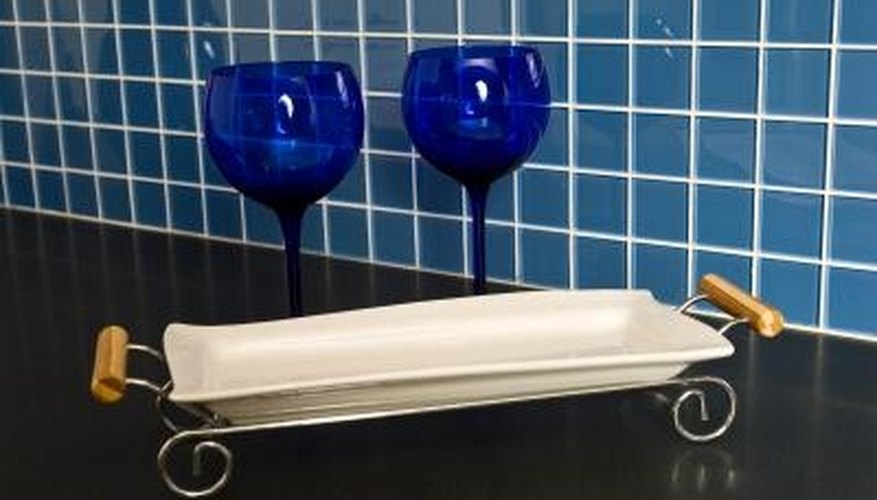 Glass can be hand-poured and cut for a rustic look, poured from recycled materials for color and variation, or machined for a smooth surface and clean edge. Because nearly all glass tiles are translucent or transparent, the mosaics cannot be mounted on mesh: The mesh would be visible after installation. For this reason, brown craft paper typically holds together mosaic glass tiles on their front surface. When looking at these mosaics, the visible area you see before you install the tile is actually the back--you remove the paper after you install the tile.
Lay out the sheets of glass tile with the paper facing up either on the area where you will install them or on a flat surface of equal size to where you intend to install them. Look at the edges of each sheet: The glass should be just visible beyond the edge of the paper. The tiles should also make indentations in the sheets where the grout lines will be. Use these indentations to ensure the sheets line up properly.
Use a razor blade or scissors to cut the paper holding the rows of tile together to fit the sheets to the edges of the installation. Cut individual glass tiles with a glass tile nipper, if necessary.
Spread white latex thin-set mortar over the area where you will install the glass mosaics. Key the mortar with the trowel to produce grooves in the mortar that will indicate the mortar is the same depth throughout. Smooth these grooves with the flat edge of the trowel.
Press each sheet of mosaic tile into the flattened mortar with the paper facing you. Press the bottom of each sheet in first and smooth it upward with your hand. Lay a piece of wood over the sheet and beat it in with a mallet to ensure the mosaics adhere to the mortar.
Wait one hour after installing the glass sheets, and then remove the paper from the front of the glass. Soak a sponge in water and apply it to the paper. This will dissolve the glue holding the paper in place. Peel the paper back away from the mosaics. If necessary, straighten out any crooked rows of tile by inserting the edge of the trowel between them and gently pushing.
Allow the mortar to dry for 48 hours after the paper has been removed. Grout the glass mosaics with sanded grout. Spread the grout over the glass with a rubber grout float, taking care not to apply more pressure than is needed to gently move the grout so you don't scratch the glass. After 10 minutes, wipe the glass clean with a damp sponge. The grout will cure completely within two to three weeks.
Things You Will Need

Razor blade or scissors
Glass tile nippers
White latex thin-set mortar
Trowel
Wooden board
Mallet
Water
Sponge
Sanded grout
Grout float
Color match latex caulk