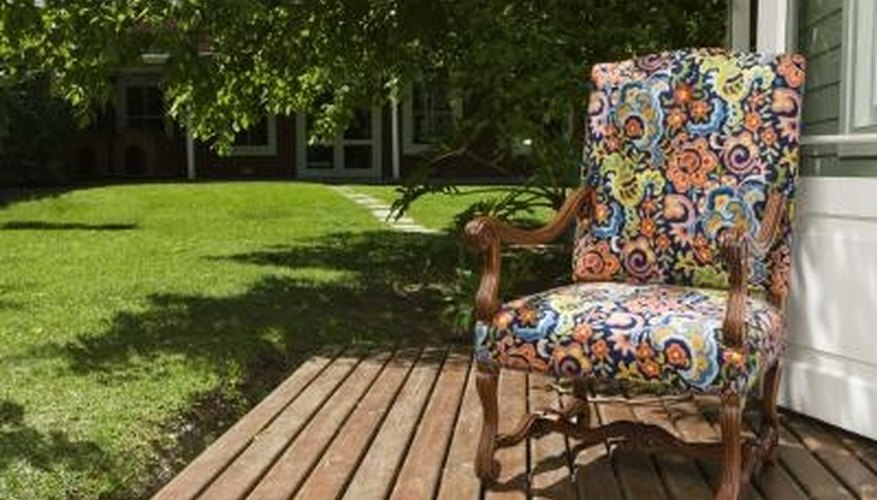 If your deck is full of splinters or is very rough, sanding will take care of that. Sanding will remove all the splinters and prepare your deck for staining or painting. Be prepared to spend an entire day or weekend on this project. If you rent a floor sander, you will need upper body strength to control it.
Clear the deck of all furniture and other paraphernalia. Sweep the deck to get all the dirt and leaves off of it. You can also use a leaf blower if you have a large deck.
Apply a deck cleaner or use a pressure washer to clean the deck. This will get off accumulated mildew and gunk. If you have a new deck, you may not need to do this step.
Walk around the entire deck and carefully check every nail. If a nail is sticking up even the littlest bit, hammer it back down flush to the wood. If there are screws in your deck, be sure they are screwed in tightly, as well. If you leave them sticking up, they will catch on the sander and cause a problem.
Put sandpaper on your sander. Large decks can use a floor sander, although they do not work as well if your deck is bowed or has an uneven surface. Disc sanders work well, but they can take a long time on your hands and knees.
Sand the deck. It works well to mentally divide the deck into sections and do one section at a time.
Sweep the deck after each section. This helps to get rid of the dust and see if you missed any spots.
Sweep the deck one final time after finishing the sanding.
Things You Will Need

Broom or leaf blower
Deck cleaner or pressure washer
Hammer
Screwdriver
Floor sander
Sandpaper
Tips
Choose your sandpaper grit carefully. The coarser the grit, the better as far as outdoor decks go.

Stain or paint the deck after the sanding is complete.