Art Under Acrylic Plastic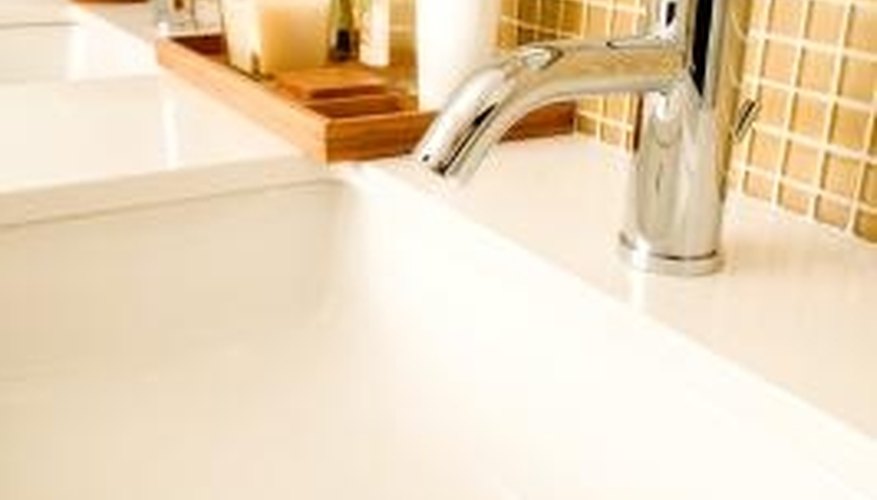 Often, backsplashes are treated to resist damage from water that may splash onto the wall. Tile is a well-liked material for backsplashes for this reason. A backsplash is an opportunity for a design element such as a vibrant stripe of color or a patterned mosaic. DIY ideas for updating a backsplash take into consideration whether you own or rent your home, your budget and your personal taste. The easiest ideas for updates do not involve adding new ceramic tile or removing old tile, but making easy modifications to the existing backsplash.
Use a measuring tape to measure the dimensions of your backsplash.
Have a sheet of acrylic plastic cut to fit the dimensions that you measured. Purchase acrylic plastic at many home building and supply stores or specialty glass suppliers that will cut it to your specifications on-site.
Collect images that you would like to affix to the backsplash area. Postcards, drawings, antique seed packets, photographs or color photocopies of images you like, such as vintage bath supply advertisements, might be suitable. Ensure that the size of the images does not exceed the size of the acrylic sheet.
Affix the images to the backsplash area using a temporary adhesive such as blue rubber fixative. Attach the acrylic plastic to the backsplash to provide transparent protection for your images. Use metal mirror brackets to attach the acrylic plastic to drywall or screws appropriate for drilling through ceramic tile to attach it to tile.
Tile Stickers
Purchase adhesive stickers for decorating ceramic tiles at a local home decoration store or an online resource. These stickers enhance plain tiles with patterns or images without damaging the tiles.
Adhere the stickers to the tiles in a pattern that you like. Consider a checkerboard pattern, or a row of stickered tiles between two rows of solid tiles.
Remove and replace the stickers to change the design of your backsplash quickly and easily.
Bright Stripe
Use a ruler and a pencil to designate the backsplash area on a drywall surface.
Affix masking tape to the wall along the outside of the lines you marked. This allows you to create a crisp edge for your painted stripe.
Use the roller to prime the rectangle with a standard latex primer and allow to dry for the time suggested on the primer label, normally between one and 24 hours.
Use water resistant or glossy paint to paint the rectangle in the color you choose. Repeat with several coats, allowing each coat to dry between applications.
Things You Will Need

Measuring tape
Pencil
Acrylic plastic
Decorative images
Brackets or screws
Adhesive tile stickers
Masking tape
Latex primer
Latex paint
Rollers
Paint tray
Tip
For ceramic tile backsplash projects such as creating a mosaic or replacing existing tile, consider whether you have the skills to complete the project yourself, or would prefer to hire a contractor.