How to Calculate Liters of Paint Per Square Meter
Learning to calculate liters of paint per square meter is a calculation that can be used to determine the expected coverage of a certain type of paint. Coverage will vary by paint brand and by the type of paint. You can normally find the information about the expected coverage for a particular paint on the paint can. Therefore, by calculating the square meter measurement of your painting project, you can determine the number of liters of paint that you will need to buy.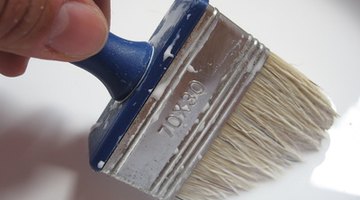 Use the tape measure to measure the length and width in meters of the space you want to paint.

Multiply the meter measurements to determine the area of the space you want to paint. For example, if the width of the wall is 5 meters and the length of the wall is 3 meters, the area of the wall is 15 square meters.

Read the label on the paint can to determine the expected coverage of the paint in square meters. For example, assume the paint can lists an expected coverage of 12 square meters.

Divide the area measurement from Step 2 by the expected coverage from Step 3. Continuing the same example, "15 / 12 = 1.25". So, it will take 1.25 liters of paint to paint the wall in the example.
References
Writer Bio
Since 1992 Matt McGew has provided content for on and offline businesses and publications. Previous work has appeared in the "Los Angeles Times," Travelocity and "GQ Magazine." McGew specializes in search engine optimization and has a Master of Arts in journalism from New York University.
Photo Credits
brush in paint image by Vladislav Gajic from Fotolia.com
brush in paint image by Vladislav Gajic from Fotolia.com
More Articles