How to Disguise a Pond Filter
A pond can be a wonderful water feature in your yard or garden. Whether it's just for a relaxing waterfall or if you keep expensive koi, you will need a filter. Most pond filters rely on gravity to return the filtered water to the pond. They can be very unattractive because they must be located above ground, above the surface of your pond. However, you can use some clever ways to hide the filter through cunning use of landscaping materials that will add to the ambiance of your pond's surroundings.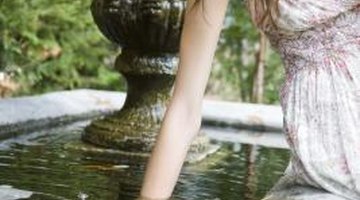 Step 1
Consider the things that are already in place in your yard before you decide to build anything new. For example, could the pond filter be hidden beneath an existing deck? This could take advantage of unused space. Under-deck areas may have insufficient height to use for people, but they may have enough height for a pond filter. Check with the manufacturer's instructions for the filter for this requirement. Pass up this area, however, if the pond filter has exposed standing water where mosquitoes could hatch.
Step 2
Build a wall into the side of a steep slope in your yard near the pond with concrete blocks or landscape timbers to shelter the filter. This works well if the slope faces away from where people will be enjoying the pond.
Step 3
Build a housing over the pond filter to hide it. The housing can be as basic as using prefabricated fence panels from the home improvement center. Simply screw them together at the corners. Leave the side facing away from the pond open for access. Paint the fencing to match the house. You can plant climbing vines to cover the fencing. You do not even necessarily need to cover it. Another idea is to "dress up" the housing as a "wishing well" or other structure to add interest to your yard.
Step 4
Buy plastic covers that resemble rocks to hide your filter. Some manufacturers make these fake "rocks" specifically to fit over their own filter models. The covers should have proper ventilation for the filter.
Step 5
Build a trellis between your pond filter and the area where people will be. Plant climbing roses, grapevines or other vining plants to climb on the trellis to obscure the filter.
Step 6
Paint the pond filter itself. Use an earth-tone such as brown or olive drab green to help it blend into the landscape. Use paint that is designed for the cover material, which will usually be PVC plastic for a pond filter. You may have to prime the PVC before painting. Also, do not paint over information stickers or caution information.
Resources
Writer Bio
Karren Doll Tolliver holds a Bachelor of English from Mississippi University for Women and a CELTA teaching certificate from Akcent Language School in Prague. Also a photographer, she records adventures by camera, combining photos with journals in her blogs. Her latest book, "A Travel for Taste: Germany," was published in 2015.
Photo Credits
Jupiterimages/BananaStock/Getty Images
More Articles