How Can I Repair a Stripped Knob on a Drawer?
A stripped wood or metal drawer knob can be very annoying. In many cases, it may be impossible to find another knob that's an exact match. However, a knob where the threads have been stripped out usually can be repaired and returned to service by using some common and inexpensive items that you may already have.
Wood Knobs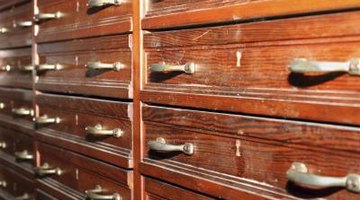 Step 1
Remove the stripped-out wooden knob and the metal knob screw with a screwdriver. If the knob is large and deep, reattach it to the wooden drawer with a metal screw 25 to 50 percent longer than the original.
Step 2
Dip three or four wooden toothpicks into wood glue and stick them into the screw hole of the wooden knob if the knob is too small and shallow to accept a longer screw. Use enough toothpicks to fill the hole. Cut off the protruding ends of the toothpicks with a utility knife so they are flush with the knob's wood. Wipe excess glue from the knob.
Step 3
Place the repaired wooden knob on the outside of the wooden drawer over the screw hole, and push the metal knob screw through the hole from the inside. Hold the knob in place with your hand while you drive the screw into the toothpicks lining the knob screw hole until the screw is tight.
Metal Knobs
Step 1
Remove the metal knob from its screw, leaving the screw in place.
Step 2
Coat the exposed end of the screw with a liquid thread-locking adhesive compound.
Step 3
Thread the knob onto the screw and tighten the connection with a screwdriver until it's as snug as possible; tightening too much likely will cause the threads to slip, loosening the knob. Allow the knob to sit overnight before using the drawer.
References
Writer Bio
Herb Kirchhoff has more than three decades of hands-on experience as an avid garden hobbyist and home handyman. Since retiring from the news business in 2008, Kirchhoff takes care of a 12-acre rural Michigan lakefront property and applies his experience to his vegetable and flower gardens and home repair and renovation projects.
Photo Credits
taviphoto/iStock/Getty Images
More Articles